Spaghetti with meat is a delicious and easy-to-make meal that is perfect for any occasion.
Whether you're cooking for your family or hosting a dinner party, this dish is sure to impress.
This post will show you how to cook spaghetti with meat in Kenya.
We'll cover everything from the ingredients you'll need to the step-by-step instructions for cooking the perfect spaghetti with meat.

So, let's get started!
How To Cook Spaghetti With Meat in Kenya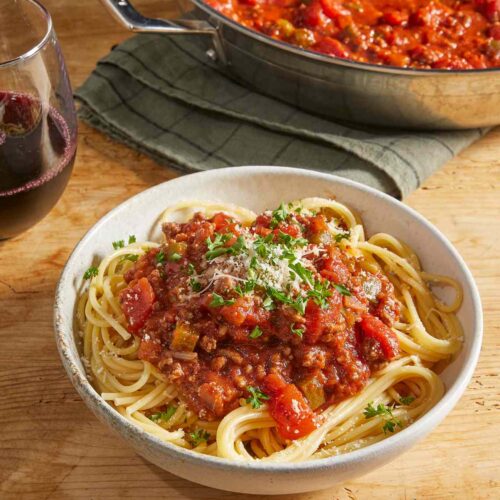 Spaghetti With Meat Recipe in kenya
Spice up dinner tonight with this delicious Kenyan-style spaghetti and meat dish! Learn how to make it in just a few easy steps.
Ingredients
1

pound of lean ground meat like beef, turkey, chicken or lamb

3

tablespoons olive oil

1

cup (130 grams) chopped onion

3

garlic cloves, minced (1 tablespoon)

2

tablespoons tomato paste

1/2

teaspoon dried oregano
Pinch crushed red pepper flakes

1

cup water, broth or dry red wine

1

(28-ounce) can crushed tomatoes
Instructions
Heat a large saucepan over medium heat and add the oil. When hot, add the meat and cook, without stirring, until browned, 3 to 5 minutes. Break it up with a wooden spoon, then add the onion and garlic and cook, stirring, until starting to soften, about 2 minutes.

Add the tomato paste and cook for 2 to 3 minutes. Add the oregano and red pepper flakes and cook for 1 minute.

Add the water, broth or dry red wine and bring to a simmer. Cook until the liquid has reduced by half, about 10 minutes.

Add the crushed tomatoes and bring to a simmer. Cook until the sauce has thickened, about 20 minutes.

Meanwhile, bring a large pot of salted water to a boil. Add the spaghetti and cook until al dente, about 8 minutes. Reserve 1 cup of the pasta cooking water, then drain the spaghetti.

Add the spaghetti to the sauce and toss to coat. If the sauce is too thick, add some of the reserved pasta cooking water to thin it out. Serve hot with grated Parmesan cheese, if desired
Video
Related: