Are you looking for a quick and easy meal that's packed with protein?
Look no further than spaghetti with eggs!
This classic dish is a staple in Kenya and is perfect for breakfast, lunch, or dinner.
In this post, we'll show you how to cook spaghetti with eggs in just a few simple steps. Whether you're a seasoned cook or a beginner in the kitchen, you'll love this delicious and nutritious meal.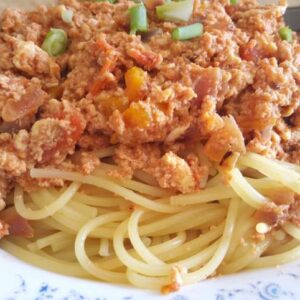 How To Cook Spaghetti With Eggs Kenya
Learn how to make a delicious and unique Kenyan-inspired spaghetti dish with eggs! Follow this step-by-step guide for the perfect spaghetti recipe.
Ingredients
4

ounces spaghetti

2

 tablespoons butter

2

eggs

2

teaspoons garlic powder

2

teaspoons ground black pepper

1

tablespoon minced onion

1

tablespoon dried rosemary
Instructions
Bring a large pot of lightly salted water to a boil. Add pasta and cook for 8 to 10 minutes or until al dente; drain.

Meanwhile, in a large skillet melt butter over medium heat; cook eggs sunny-side up (so that egg yolks are not broken). Sprinkle garlic powder, ground black pepper, onion and rosemary on eggs while cooking.

Place hot pasta and cooked eggs on a plate and stir together; the broken yolks will create the sauce. Serve hot.
Video
Find other recipes here.
Related: