Are you looking for the best kitchen curtains designs in Kenya?
Kitchen is an essential part of every home, and they need to look just right!
Whether you're looking for something classic or something more modern, there's a perfect kitchen curtain design out there for you.
In this article, we'll explore 10 unique kitchen curtain designs that are sure to make your Kenyan home shine.
From bold prints to sheer fabrics and natural materials, these eye-catching window treatments will bring personality and flair into any cooking space.
Importance of kitchen curtains in Kenyan homes and why you should consider different designs.
In Kenyan homes, kitchen curtains are an important aspect of interior design.
They offer a sense of privacy and define the kitchen space from the rest of the house.
Not only do they create a warm, inviting atmosphere but also provide protection from harsh sunlight and add a decorative touch to any room.
When choosing kitchen curtains for your home, consider different designs and materials.
Lightweight fabrics such as cotton or linen can filter out some light while maintaining airflow in the kitchen area.
On the other hand, heavier materials such as velvet or silk will help protect against drafts and control temperature better but may not be aesthetically pleasing in all cases.
Select colors that match your overall decor scheme while emphasizing natural light sources if necessary.
Finally, the pattern of your kitchen curtains is also important.
Floral patterns and bright colors can add a cheerful feel to any space while subtle stripes or plaids combine well with both modern and traditional designs.
Ultimately, selecting kitchen curtains in Kenya that match your home's interior design will create an inviting atmosphere while still offering privacy from outside onlookers.
10 Unique Kitchen Curtains Designs in Kenya
a. Floral Prints for a natural and vibrant look
Floral prints offer a natural and vibrant look to any kitchen.
The cheerful colors of bright flowers in bloom can instantly lift the mood of the room, creating an inviting atmosphere for family and friends.
Floral designs are also an excellent way to add texture to your kitchen curtains, as they come in various shapes and sizes.
For a classic look, try a pattern with larger flowers that feature bold colors like reds, yellows, and blues.
For a more contemporary look, opt for smaller kitchen curtain designs in Kenya with softer shades such as pastels or light neutrals.
Additionally, floral prints can be used on sheer fabrics for an airy effect or on heavier materials like velvet for added warmth.
With so many options available, you'll easily be able to find the perfect floral print curtains to take your Kenyan home's kitchen from plain to extraordinary!
b. Striped Curtains to add an elegant touch.
Striped curtains are a classic design that can add an elegant touch to any Kenyan home.
Available in a range of colors and textures, these curtains can add a sophisticated look to your kitchen or living room.
The vertical stripes create an illusion of height, making the space seem larger than it is.
They also draw attention to the windows and can be used as a focal point in the room.
Also, striped curtains will blend beautifully with neutral tones and warmer colors, creating a calming atmosphere.
To really make them stand out, consider using contrasting stripes of different colors or bold patterns that create movement in the room.
With proper care and maintenance, striped curtains will last for many years and will never go out of style.
c. Solid Colors to bring a modern yet cozy look
Solid colors are a classic choice for kitchen curtains in Kenya and can provide a modern yet cozy look.
The simplest way to bring some color into the room is by using basic shades such as white, black, grey, and beige.
These colors can create an understated elegant look while still adding texture and interest to the space.
To make sure these more muted tones don't come off too plain, you can accessorize with colorful cushions, tablecloths, or artwork to give your kitchen some life.
Alternatively, you could go bolder with vibrant accent shades like reds and yellows that will bring energy and character to the room.
Lastly, if you want something truly unique try incorporating pastel tones such as baby blues or pinks for a softer style that will really stand out in your home!
d. Geometric Patterns to make a bold statement.
Geometric patterns are a creative and stylish way to elevate the look of your kitchen curtains in Kenya.
These shapes can add bold lines and colors to the room, making it more inviting and exciting.
For example, you can create a unique kitchen curtain design by incorporating geometric shapes into the fabric.
Whether you're looking for something that stands out with its vibrant hues or something more subtle with neutral tones, these patterns will add an eye-catching touch to your window coverings.
To make a statement in your kitchen, try using chevron stripes or polka dots to create a striking contrast against plain white walls.
You could also opt for larger-scale prints such as diamonds or hexagons which will give the space an edgy contemporary feel.
Whichever pattern you choose, incorporating geometric designs is sure to take your kitchen up a notch in style.
e. Valances & Swags
Valances and swags are a classic window treatment for kitchens, as they provide both privacy and style to the room.
Valances are typically hung at the top of a window, while swags run along the sides and bottom.
Both can be used in traditional or modern designs.
In traditional settings, valances often feature bold colors or intricate patterns that serve as an eye-catching focal point in the kitchen.
Swags can also add an elegant touch with their flowing fabric panels and scalloped edges.
In more contemporary designs, minimalistic valances may be used to create a sleek look.
Swags may also be accented with bold colors or fabrics featuring modern patterns for a visually pleasing effect.
Additionally, sheer white fabrics are popular for both valances and swags due to their ability to bring in natural light while still providing privacy from outdoor elements.
f. Ruffles & Gathers to create a unique and inviting atmosphere.
Ruffles and gathers are a great way to add texture and depth to any kitchen curtain design in Kenya.
The use of the frilly fabrics adds an air of elegance and softness, whilst still providing a practical layer of privacy.
When layered over other materials like lace or sheer panels, it creates a unique and inviting atmosphere in the room.
Ruffles can also be used to create vertical stripes that provide both style and functionality as they help to draw the eye upwards, making the space appear larger than it is.
Gathers are also a great choice for those looking for an understated yet stylish look; by bunching fabric into pleats at certain points on the panel you can add interest while still keeping things relatively simple.
Both ruffles and gathers offer excellent versatility when it comes to creating unique kitchen curtain designs that will elevate your Kenyan home in terms of both style and privacy.
g. Sheer Curtain allows light to filter through while providing a soft touch
Sheer kitchen curtain designs in Kenya are a great way to add style and light to your Kenyan home.
These types of curtains, made from lightweight fabric, allow diffused light to enter the room while still providing privacy.
Sheer curtains can be used alone or layered with other types of window treatments, such as draperies or blinds.
They come in a variety of colors and styles, offering plenty of options when it comes to creating an inviting atmosphere.
When choosing sheers for your kitchen, consider the setting–whether you want a bright and airy space or one that's more subdued and romantic.
Sheer curtain panels are also versatile enough to be used throughout other rooms in the home too!
With these unique kitchen curtain designs, you'll create a warm and inviting atmosphere that will make your guests feel right at home.
h. Cafe Curtains to add a chic and stylish feel.
Cafe curtains offer a chic and stylish look to any Kenyan kitchen.
These curtains are traditionally hung in the center of the window, with both sides meeting in the middle.
They usually reach just below the window sill and can be done up with either single or double pleats depending on preference.
The top of these curtains may feature a decorative valance to add an extra bit of flair.
Cafe curtains come in a variety of styles and fabrics, allowing homeowners to choose one that best fits their aesthetic needs.
Whether light, airy sheer material or heavier woven fabric is chosen, cafe curtains add warmth and texture to any kitchen space.
For those looking for something more unique than traditional drapery, cafe curtains provide a perfect alternative for achieving an elegant look within their home.
i. Embroidered Curtains
Embroidered curtains can add an air of sophistication to any kitchen.
The intricate designs, stitched into the fabric, create a timeless look that is sure to catch the eye of anyone who walks by.
Embroidery can be done in a variety of colors and styles, so you can find just the right one for your kitchen.
Whether you choose traditional patterns like paisley or modern geometric shapes, these curtains will draw attention and elevate your Kenyan home.
Beyond simply adding visual interest to your space, embroidered curtains can also help insulate against heat and sound.
This is especially beneficial in Kenyan homes where temperatures tend to rise during the summer months.
An added bonus is that they are easy to care for as well; simply spot clean with a damp cloth when necessary.
j. Tiebacks: can be tied back for a dramatic effect.
Tiebacks are a great way to add visual interest to your kitchen curtains in Kenya.
They can be used to create a dramatic effect, by having the curtains draped around or over window frames or other furniture pieces.
When it comes to adding a tieback, think outside the box for unique and creative designs.
For example, you could use tasseled braided rope for an antique-style look in your kitchen.
The rope could be attached to the wall near the window frame and then used as strong ties for each side of the curtain fabric.
You could even add beads or jewels along with different colored ribbons of contrasting shades in order to create an eye-catching design that will brighten up any space.
Tiebacks offer endless possibilities when it comes to enhancing your kitchen's overall style and décor.
Best kitchen curtains in Kenya (Prices)
Generic Gray Curtains 2Pc (1.5M Each)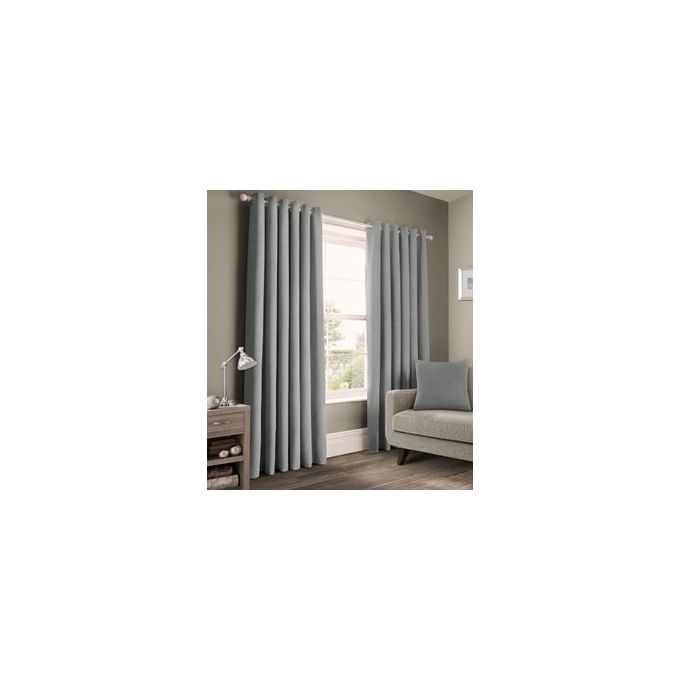 KSh 3,499 – KSh 6,499
Beautiful and Vibrant: These curtains will add a touch of brightness and vibrancy to your home decor. With 15 different vibrant colors to choose from, you can find the perfect curtain for any room in your house.
Functional Design: These curtains feature plastic grommets that make it easy to open and close them on the curtain rod. They are also sold as a pair with a corresponding net, giving you the complete look.
Durable Quality: Made from 100% polyester, these curtains are designed to last for years. The sturdy material ensures that they won't rip or tear easily so you don't have to worry about replacing them anytime soon.
Easy Care: These curtains are designed with convenience in mind. They are machine washable and easy to maintain so you can keep them looking fresh without having to spend too much time or effort into it.
Affordable Price: These curtains come at an affordable price point so they won't break your budget while still providing high quality design and materials that will stand up to years of use.
Generic Kitchen Window Sheers 2Pcs – Standard Size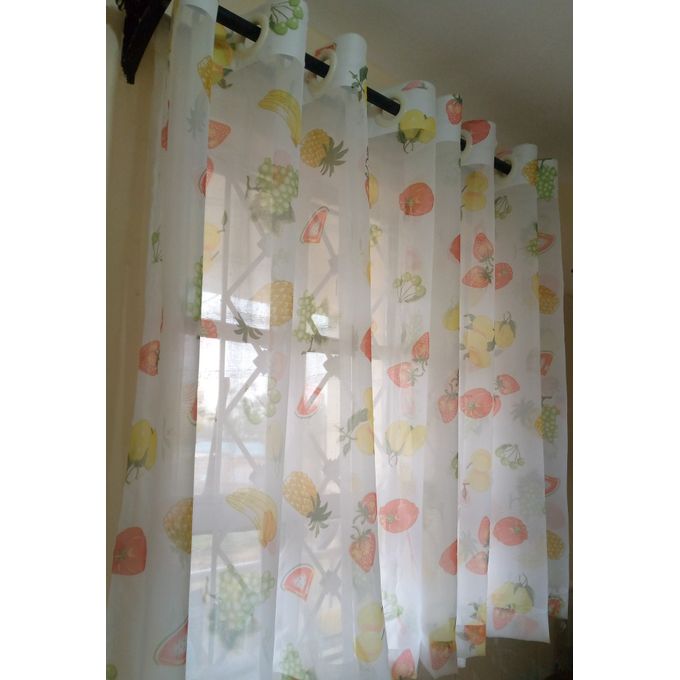 KSh 1,999
Premium Quality Sheers: These sheer curtains are made from premium quality material, durable and solid, providing a luxurious look to your kitchen window. The non-toxic fabric is also free from any smell and safe for you and your family.
Rod Pocket Design: Installing these sheers is easy with the rod pocket design, allowing for quick and easy installation with no tools required.
Easy To Clean: The lightweight fabric of these sheers is easy to clean, allow to wash by water without any worries of shrinkage or color fading.
Light Control: Perfectly balance natural light while providing privacy with these sheers in your kitchen window. The light filtering fabric provides a beautiful view of the outside while still protecting your home's privacy.
Versatile Style: With modern style suitable for all kinds of decoration styles, these sheers are perfect for creating beautiful and comfortable atmosphere in your home kitchen window.
Generic Gray Yellow Blackout Combo Window Curtains
KSh 6,499
Vibrant Colors: These 100% polyester curtains are available in a wide range of vibrant colors, allowing you to find the perfect match for your home décor. The bright dye also ensures that these curtains will last for years to come.
Another one of the best kitchen curtain designs in Kenya.
Sold as a Pair: Enjoy the convenience of having two panels that are both 100 inches tall, sold as one set. This allows you to hang them together on the same curtain rod for maximum coverage and an even look.
Durable Fabric: Made of 100% polyester, these curtains are incredibly durable and incredibly easy to clean. They also feature a plastic grommet at the top of each panel, allowing you to easily open or close your curtains with ease.
Light Blocking: Keep out unwanted light from your windows with these curtains! Not only do they block out light, but they can also help keep the cold air out during winter months and keep your home feeling cozy and comfortable all year round.
Easy Installation: Installing these curtains is a breeze! With the plastic grommets already attached, simply slide them onto any standard curtain rod for easy installation and no fussing around with other hardware or tools.
Generic Yellow Curtains 2Pc (1.5M Each)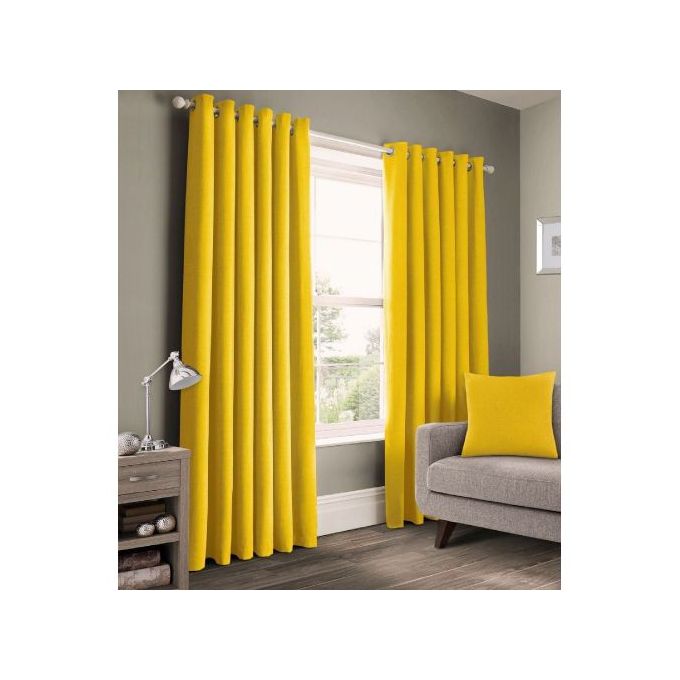 KSh 6,499
Vibrant Colors: Come in 15 vibrant colors to choose from, so you can find the perfect shade of color to complement any room. The vibrant colors will provide a pleasant atmosphere and make your home look more inviting and stylish.
Sold as Pair: Curtains are sold as pairs, so you don't have to worry about ordering two separate pieces for each window. Each pair comes with its own corresponding net for an easy installation process.
Durable Material: These kitchen curtains are made of 100% polyester for superior durability and strength. This ensures that the curtains will remain in great condition even after many washes, making them a great long-term investment.
Easy Installation: Installing these curtains is a breeze! Each curtain features plastic grommets which makes it quick and easy to attach them onto curtain rods. This allows you to open and close the curtains without any hassle.
Versatile Design: Versatile design allows these curtains to fit in any room or space in your home! The neutral color palette means they won't clash with any furniture or décor, making them perfect for any style of home.
Final Thoughts
Kitchen curtains in Kenya are a great way to elevate the appearance of your Kenyan home.
They come in a variety of designs, materials, and textures, making it easy to find the perfect curtains for any style or taste.
Most importantly, they can instantly brighten up your kitchen and create an inviting atmosphere that makes spending time in the room enjoyable.
Investing in kitchen curtains in Kenya can also make your home look more spacious by allowing natural light into the room and creating an open feeling.
Additionally, these curtains can help reduce noise from outside sources such as traffic or loud neighbors, making them both stylish and practical. 
Related: