Modern kitchen designs are becoming increasingly popular in Kenyan homes looking to incorporate contemporary styles.
A modern kitchen prioritizes minimalism, functionality and a sleek aesthetic using the latest materials, finishes and appliances.
Some key elements that define a modern kitchen design in Kenya include:
Open-plan layouts – Modern kitchens connect openly with living and dining areas in an open-plan style rather than being closed off rooms. This creates an airy, spacious impression.
Minimalist decor – The emphasis is on clean lines, hidden storage, neutral colors like white/gray and minimal ornamentation for an understated look.
Island benches – Having a central island bench is a must for most modern kitchens. The island provides extra seating and doubles up as a dining area.
Sleek cabinetry – Shaker-style, handle-less flat-panel cabinetry in glossy finishes paired with understated hardware and concealed hinges.
Quartz/granite countertops – Materials like quartz, granite, Dekton and Corian are preferred to natural stone for low-maintenance and contemporary feel.
Smart storage – Maximize storage space via pull-out shelves, deep drawers, customized organizational systems and slide-out storage.
The aim is having an elegant, clutter-free and minimalist kitchen that looks chic and blends seamlessly with open-plan living areas. In this article, we explore popular modern kitchen layouts, finishes and appliances finding traction in Kenyan homes and apartments.
Key Takeaways
Modern kitchens in Kenya emphasize minimalism, open layouts, sleek finishes and integrated appliances.
Popular modern kitchen layouts include galley, L-shaped, U-shaped, island and peninsula configurations.
Quartz, acrylic and laminate countertops together with thermofoil or lacquer cabinets provide budget-friendly options.
Induction cooktops, built-in ovens, concealed fridges and sensor taps contribute to a streamlined look.
Statement pendant lights, undercabinet LEDs and accent sconces provide both task and ambient lighting.
Careful choice of materials and contractor hiring is key to designing a modern kitchen successfully on a budget.
Popular Styles and Layouts for Modern Kitchens in Kenya
Modern kitchen designs employ various layouts and configurations to maximize workflow, space and create a sleek contemporary look. Here are some of the most popular modern kitchen styles used by Kenyan homeowners and interior designers:
1. Two-Wall Galley Layout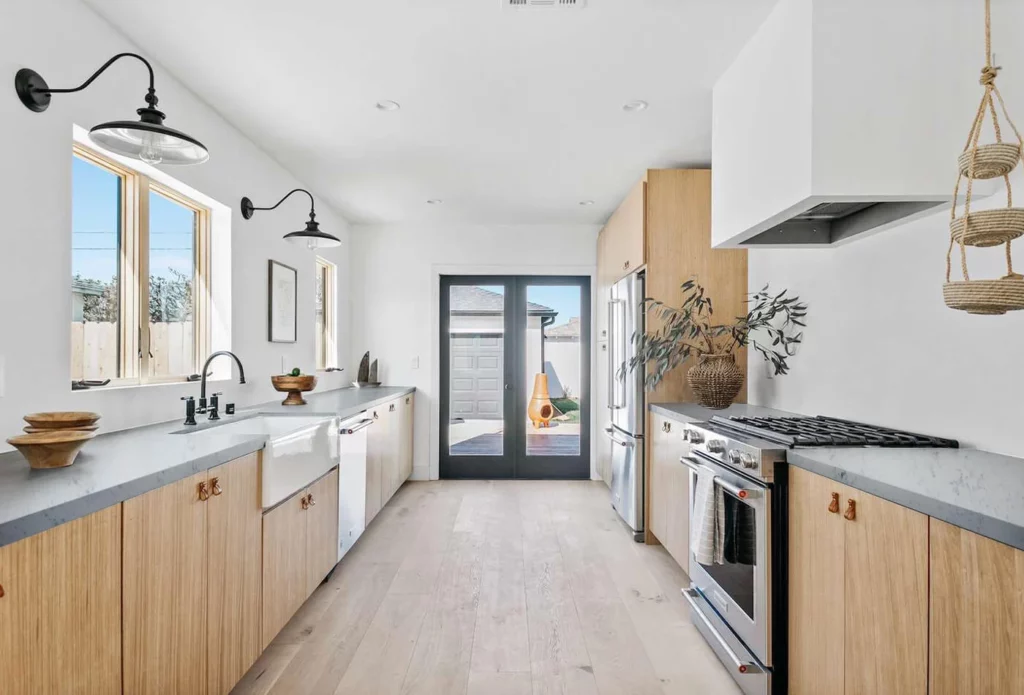 This practical and space-efficient layout has cabinets and appliances lined up along two parallel walls. The work area is streamlined into a narrow galley-like corridor, allowing for easy movement between sink, cooktop and refrigerator.
Benefits:
Efficient foot traffic flow in a linear pattern
Works well even in tight spaces
Allows for extra seating at open end of galley
Considerations:
Limited room for multiple cooks
Appliances must be compact
2. L-Shaped Layout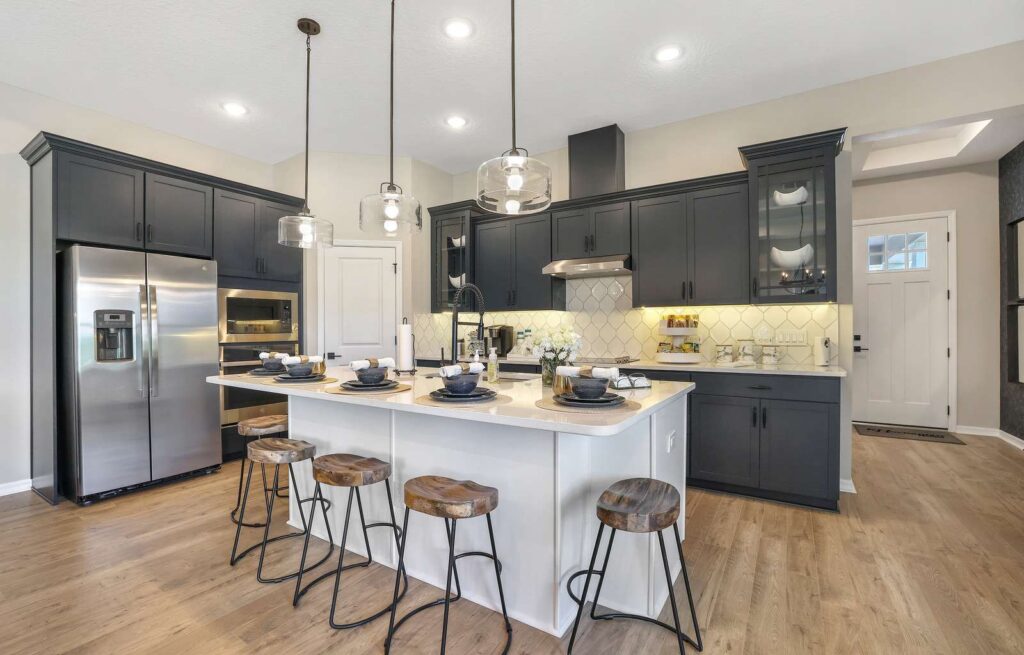 This places cabinets and appliances along two adjoining walls in an L-shape. There is good utilization of corner space and allows for a centralized workspace.
Benefits:
Provides ample cabinet and prep space
Allows multiple cooks to work together
Open leg of L can accommodate a kitchen table
Considerations:
Bulky appliances can make L-shape cramped
Traffic bottleneck may occur at corner
3. U-Shaped Layout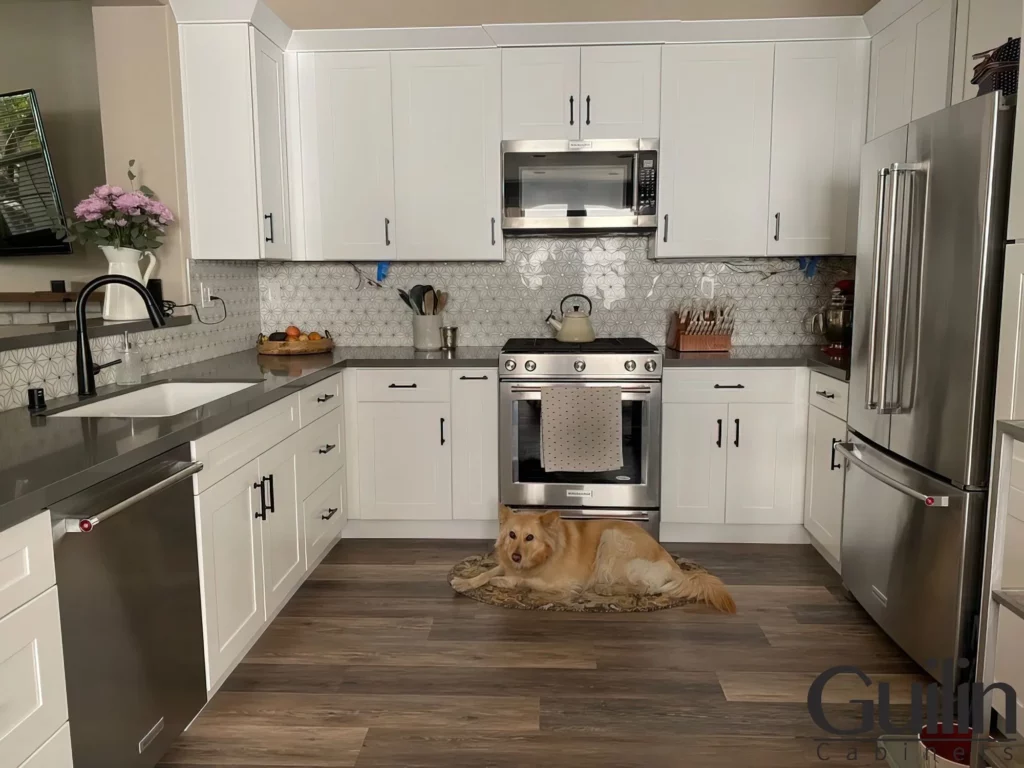 As the name suggests, the U-shaped layout has cabinets/appliances along three walls facing a central island. This enables efficient circular work pattern.
Benefits:
Allows multiple cooks with dedicated workstations
Provides abundant storage and prep space
Open design is great for interaction
Considerations:
Needs a large floor space
Can limit entry/exit points
4. Island Layout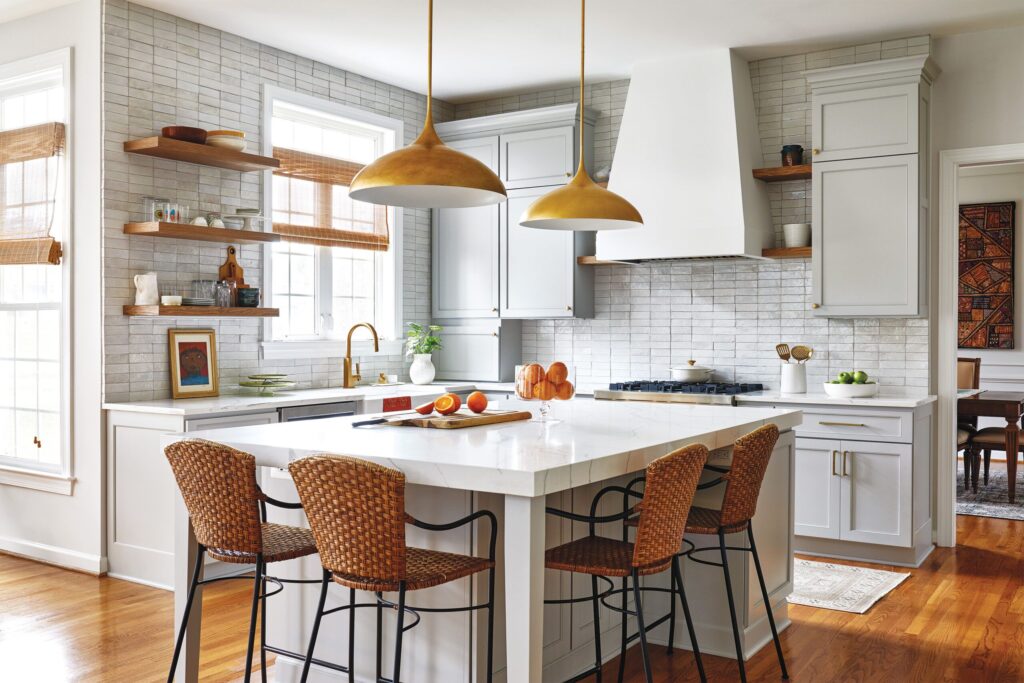 This revolves around a large central island as the focal point, surrounded by ample open counter space. Main appliances are integrated into island.
Benefits:
Island is multi-functional for cooking, prep and dining
Allows movement around island
Open and spacious
Considerations:
Needs significant floor space
Can be expensive due to custom island
5. Peninsula Layout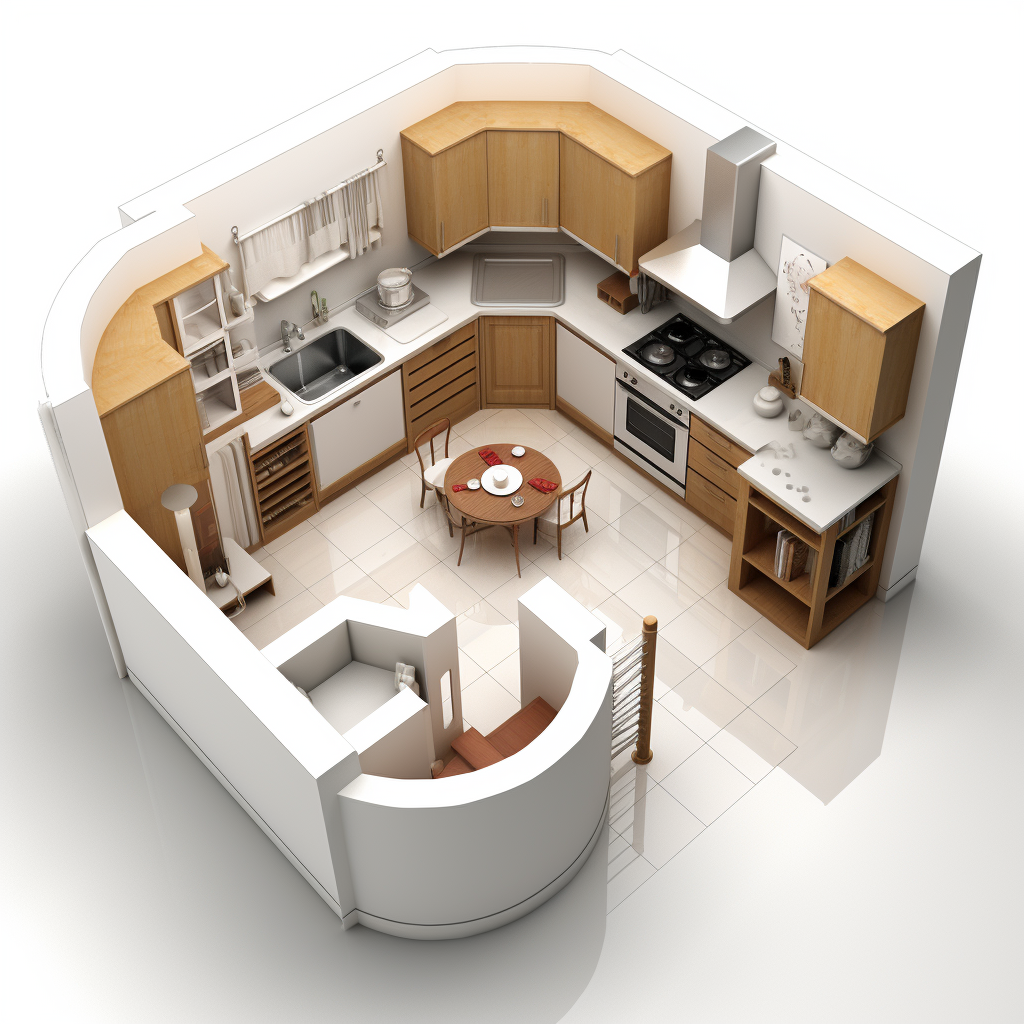 Similar to island but with one end of the central island unit connected to perimeter cabinets. This helps zone areas in a large, open kitchen.
Benefits:
Peninsula provides separation from living room
Extra seating and dining space
Efficient traffic flow is enabled
Considerations:
Reduced leg room at dining side
Peninsula bottlenecks movement
Choosing the right kitchen layout depends on your space, storage needs and preferred work style. Keep aisles open, minimize cross-traffic, and ensure good lighting and ventilation.
Choosing Materials and Finishes for a Modern Kitchen in Kenya
The choice of materials and finishes is key to achieving a sleek, contemporary look in modern kitchen designs. Here are some of the best options used by Kenyan homeowners and interior designers:
Cabinetry
1. Thermofoil Cabinets
These affordable cabinets have a laminate wrap fused to medium-density fiberboard shells. Available in matte, woodgrain and high-gloss finishes. Easy to clean and maintain.
2. Melamine Cabinets
Melamine-coated particle board cabinets provide a budget-friendly option. Limit moisture exposure. Modern handle-less styles create a streamlined look.
3. PVC and Lacquer Cabinets
PVC/lacquer coated cabinets offer durability and moisture resistance at mid-range prices. Achieve a satin, matte or high-gloss finish.
4. Wood Veneer Cabinets
Real wood veneered cabinets like oak provide natural grain patterns. Use moisture-resistant plywood carcasses to prevent warping and mdf for panels.
5. Polyurethane Cabinets
Polyurethane coated cabinets provide a cutting-edge alternative with high heat, scratch and stain resistance. Achieve a glossy opaque surface.
Countertops
1. Quartz Countertops
Quartz counters like Caesarstone provide stain/scratch-resistance, durability and modern look. Available in wide range of colors and patterns.
2. Granite Countertops
Granite adds natural pattern and luster. Select smoother, tighter-grained granites for more modern vibe. Great durability and easy maintenance.
3. Solid-Surface Acrylic
Durable, non-porous solid acrylic surfaces from brands like Corian or Swanstone allow creative, seamless design options for a contemporary look.
4. Laminates
Affordable laminate countertops like Formica offer hundreds of color/pattern options. Choose matte finishes over high-gloss for a streamlined look.
5. Stainless Steel
Stainless steel counters provide an industrial modern look, especially when paired with appliances of same finish. Limit to low-use areas.
Flooring
1. Porcelain Tile
Durable, water-resistant porcelain floor tiles are scratch-proof and easy to clean. Achieve a contemporary style with large format minimalist tiles.
2. Laminate
Easy-install laminate flooring resists moisture and provide modern wood-like visuals. Opt for wider planks with straight-line patterns.
3. Luxury Vinyl Tile
Waterproof, scratch-resistant luxury vinyl tiles mimic materials like wood, stone and concrete with realistic textures and visual depth.
4. Polished Concrete
The industrial look of polished concrete adds a sophisticated urban edge. Use a matte sealer for a modern finish.
5. Bamboo
Bamboo floors offer sustainability factor. Stand-up bamboo planks create sleek linear designs.
Aim for fuss-free and low-maintenance finishes that make a contemporary statement. Keep the overall palette neutral while adding interest via material textures.
Modern Kitchen Appliances and Features in Kenya
Investing in modern kitchen appliances not only adds functionality but also brings in a contemporary edge. Here are some must-have appliances and features for a modern kitchen design in Kenya:
1. Frameless Cabinetry
Frameless, full-overlay cabinetry with hidden hinges provides a seamless, continuous look aligned with modern minimalism. Allows maximizing storage space.
2. Induction Cooktops
Induction cooktops heat faster, are energy-efficient and easier to clean than traditional gas or electric ranges. Plus, they have a sleek, modern appearance fitting small kitchen spaces well.
3. Built-in Ovens
Built-in, wall-mounted ovens save on counter space and allow for a streamlined look. Combination steam + conventional ovens let you cook diverse dishes.
4. Undercounter Fridges
Compressor based undercounter fridges conserve space in small kitchens while offering standard-depth fridge storage. Can be integrated seamlessly.
5. Dishwashers
A concealed dishwasher with a stylish control panel integrates elegantly into cabinetry. Choose models with low noise levels for open-plan living.
6. Sensor Faucets
Touchless sensor faucets provide water on demand and eliminate handles/knobs for a minimalist, easy-to-clean look. Models with temperature and flow control give flexibility.
7. Slide-out Storage
Maximize corner cabinets and blind spots via clever slide-out mechanisms. Great for kitchen items used less frequently.
8. Undercabinet Lighting
LED strip lighting underneath cabinets provides both task lighting and accent lighting for a modern ambience. Can be color-changing.
9. Quarts Stone Sinks
Integrated quartz sink and countertops achieve a streamlined contemporary look. Non-porous quartz resists stains, scratches and heat damage.
10. Hidden Waste Bins
Keep the look tidy with discrete waste separation bins that slide out of cabinetry or integrate inside islands. Some feature motion-activated openings.
The goal is to choose appliances and elements that reduce visual clutter, streamline kitchen tasks and pair functionality with good, minimalist design.
Lighting Ideas for a Modern Kitchen in Kenya
Proper kitchen lighting serves the dual purpose of illuminating tasks while also setting the desired modern ambience. Here are some lighting ideas suited for contemporary Kenyan kitchen designs:
1. LED Undercabinet Lights
Mounted underneath wall cabinets, LED strip lights provide ambient lighting plus spotlight task areas like counters and the sink. Choose color-changing strips for accent lighting.
2. Pendant Lights suspensions
Pendant lights dangling above islands and countertops cast light right where needed while adding sculptural elegance. Go for sleek, adjustable models in materials like brass, nickel, glass.
3. Recessed Ceiling Lights
Recessed downlights provide overall room illumination and can highlight decorative backsplashes, light features and pendant lights. Use directional adjustment and dimming.
4. Track Lighting
Track lighting offers directional task lighting that can spotlight the kitchen sink, stove and other work areas. Go for low-voltage LED or halogen fixtures.
5. Undercabinet Night Lights
Discrete LED night lights installed under cabinets and inside drawers provide visibility for late-night snacks and drinks while maintaining a dim, relaxing ambience.
6. Natural Light
Maximize natural light through large windows, skylights, and glass cabinet doors. Consider special UV-filtering glass to safeguard food.
7. Statement Light Fixtures
Make a contemporary design statement by mounting decorative modern chandeliers and ceiling fixtures that act as a focal point.
8. Backlit Cabinets
For a cool accent effect, install LED strip lighting inside glass-fronted cabinets to illuminate displayware and glassware.
9. Wall Sconces
Mounted on side walls, modern sconces can provide ambient lighting plus accentuate decor elements. Use sparingly to avoid visual clutter.
10. Under Toe Kick Lighting
Extend LED lighting under cabinet toe kicks to create an ambient glow and highlight the lines of base cabinetry for a contemporary look.
The overall lighting design should remove shadows in task areas, avoid glare, and layer ambient, accent, and task lighting for functionality and aesthetics.
Tips for Creating a Modern Kitchen on a Budget in Kenya
Achieving a modern kitchen design doesn't have to break the bank. With clever planning and choice of materials, Kenyan homeowners can create a contemporary-styled kitchen even on a budget. Here are useful tips to follow:
Opt for Thermofoil Cabinets
Thermofoil cabinets fused with MDF provide a cost-effective way to get handle-less, slab-style cabinetry with modern silhouettes compared to solid wood options.
Select Laminate Countertops
Laminate countertops offer hundreds of color and finish options starting from budget-friendly prices. Matte options provide a streamlined look. Pair with matching laminate backsplash.
Look at Porcelain and LVT Flooring
Cost-effective porcelain and luxury vinyl floor tiles now closely mimic pricier materials like stone and hardwood but are easier to install and maintain.
Evaluate Base Cabinet Needs
For small kitchens, limit lower cabinets to just around cooking/prep zones and use wall-hung shelves/ledges elsewhere to save.
Consider MDF Cabinets
While moisture-prone, well-sealed and primed MDF cabinets provide an affordable medium for achieving desired door styles and finishes.
Use Accent Lighting
Ambient undercabinet and accent pendant lights help set a modern mood without needing large decorative fixtures.
Seek Alternative Island Materials
Butcher block, stainless steel or concrete-look quartz islands can be budget-friendly compared to natural stone and solid wood. Use smart dimensions.
Look for Value Appliances
Check brands like LG, Samsung, Haier and Godrej for appliances with the essential modern features at reasonable prices.
Evaluate Open Shelving
Open shelving saves on cabinetry costs but needs a tidy, organized look to work in a modern kitchen. Limit to non-perishable storage.
DIY Where Possible
Take on tasks like building open shelves, painting cabinets, installing backsplashes and undercabinet lighting yourself. Consult professionals when required.
With careful selection of finishes, appliances, lighting and creative DIY, Kenyan homeowners can design a contemporary-styled kitchen that maximizes function while staying within budget constraints.
Hiring Contractors and Interior Designers for Modern Kitchens in Kenya
Carefully choosing qualified kitchen contractors and interior designers is key to successfully executing your modern kitchen design vision within budget and on schedule. Here are useful tips for Kenyans seeking to install a contemporary-style kitchen:
Define Your Design Goals
Have a clear design brief – the size, layout, finishes, appliances and overall look you want to achieve. This helps communicate requirements to contractors.
Do Initial Online Research
Search for terms like "modern kitchen contractors in Nairobi" and go through online portfolios of design firms and contractors to create a shortlist.
Ask Friends for Referrals
Talk to friends and family who have installed modern kitchens for referrals to contractors they've worked with successfully.
Look for Specialization
Shortlist contractors who specifically mention expertise in designing and building modern kitchens rather than general kitchen contractors.
Interview Potential Candidates
Meet with your shortlisted contractors/designers in person and assess their understanding of your requirements. Gauge their experience.
Verify Credentials
Ask for documentation on licensing, education qualifications, manufacturer certifications and years in business. Kitchen design expertise is a must.
Discuss Design Options
A good designer will suggest layouts, materials and features to optimize your kitchen space, workflow and budget constraints.
Review Previous Work
Inspect photos of previous modern kitchen projects the contractor has completed to assess quality of cabinets, finishes and installation.
Get References
Contact references provided by the contractor to ascertain their reliability, workmanship and post-project support.
Check for Insurance
Verify they have adequate public liability and employees compensation insurance to cover damages or injuries.
Working with experienced kitchen pros ensures your contemporary kitchen vision is brought to life effectively. Invest time to make the right hiring decision.
Conclusion and Key Takeaways on Modern Kitchens in Kenya
The contemporary kitchen design style is gaining prominence in Kenyan homes and apartments looking to incorporate sleek, minimalist aesthetics and the latest innovations.
When creating a modern kitchen, focus on elements like:
Open-plan layouts – Knocking down walls for an airy, spacious flow between kitchen and living areas.
Island benches – Including a central multi-functional island for dining, extra seating and food prep.
Minimalist decor – Keeping ornamentation minimal and using neutral, subdued colors.
Sleek finishes – Cabinetry with no handles in high-gloss thermofoil or polyurethane coats. Quartz, acrylic or laminate for countertops.
Smart storage – Maximizing space via pull-outs, deep drawers and slide-outs.
Integrated appliances – Built-in ovens, induction cooktops and matching fridges for a streamlined look.
Lighting also sets the right modern mood via pendant lights, undercabinet LEDs and accent sconces.
When it comes to execution, consider cost-effective options like thermofoil cabinetry, porcelain tiles and laminates to achieve the look on a budget. Hire experienced kitchen contractors and designers to bring the contemporary vision to life.
The modern kitchen continues to evolve as new materials, finishes and technology get introduced. Kenyan homeowners have an opportunity to incorporate the latest global trends to create kitchen spaces that are both functional and sophisticated.
Read also: