When you think of pizza, do you usually think about how much work it might need to make?
That's because making good pizza dough from scratch takes time.
But there are other ways to get your hands on some delicious, fresh-from-the-oven pizza without spending hours in the kitchen in Kenya.
You can find pre-made pizzas at most grocery stores and supermarkets these days for less than $3 (or even more cheaply if you're looking around) which means that creating homemade pizza has never been easier!
Here is our guide to taking this weeknight staple from the takeout territory into something fun and easy that will satisfy all family members:
HOW TO MAKE A PIZZA
We'll need flour, yeast, sugar, and salt for our dough.
Mozzarella cheese will be used as the main topping with other optional ingredients such as tomato sauce, olives, or pepperoni. You can also add some oregano to your dish before baking it in order to give it a more Italian flavor.
Once you have these three basic components ready, make sure that all of them are at room temperature—this is an essential step if you want to enjoy this meal without worrying about any reactions from too-cold ingredients!
Knead the dough gently until its elasticity increases and then let it rest for around 1 hour while we prepare the toppings.
We recommend cooking up something else on another burner while you wait for the dough to rest, that way it won't be finished by the time all your other ingredients are ready.
Step #1: Preheat oven to 200°C for 30 minutes.
Step #2: Our dough after one hour is now full, soft, and ready to use. Roll the dough on a lightly floured surface until it is about 0.25 cm thick.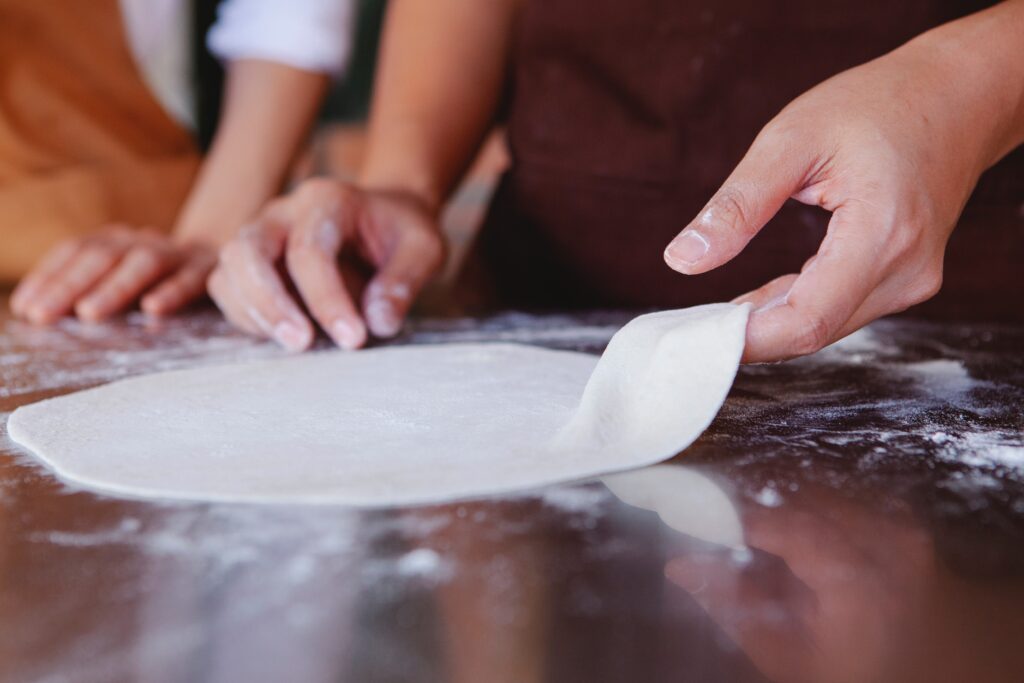 Place the pizza dough on your pizza tray or any pan you have to in case you don't have a pizza tray. remember that you need to oil the base of your pan with olive oil or any oil of your choice to make sure it doesn't stick.
Step #3: After making sure your dough is round enough, it's time to add toppings. your sauce should go first, followed by your cheese then your toppings be it beef, chicken, bacon, or vegetables then lastly more cheese on top.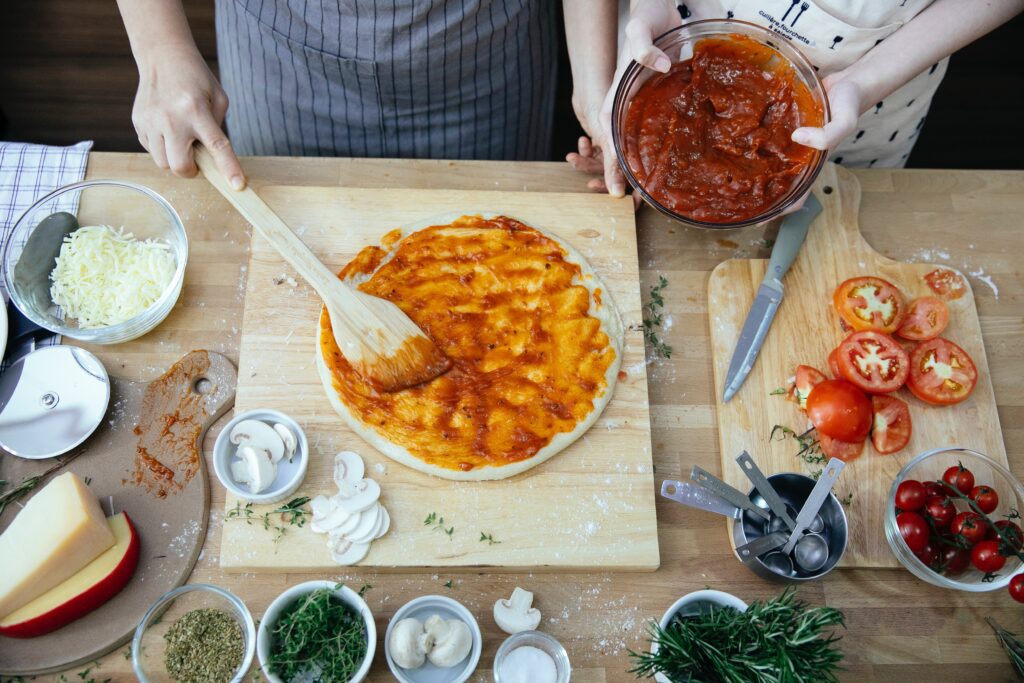 Note: Don't overwhelm your pizza with toppings.
Step #4: Once everything is ready put your pizza into your preheated oven and cook it for 8 minutes.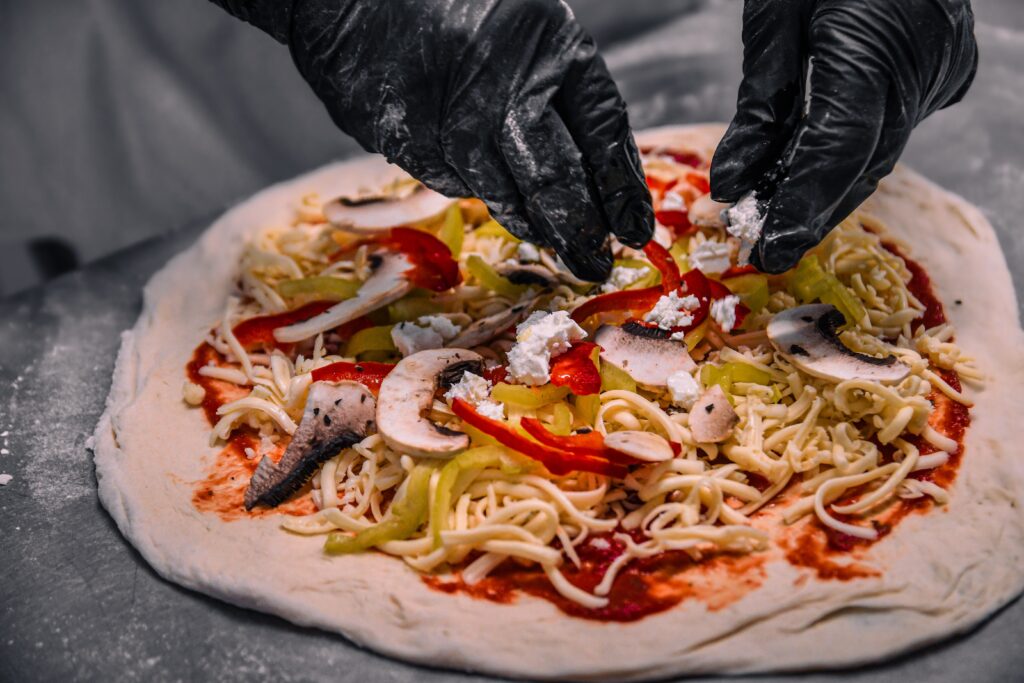 Note: Check your pizza after the first 5 minutes to ensure it's cooking well and if there is a need brush any dry parts of the dough with oil.
Step #5: In about 8 minutes of cooking, your pizza should be ready to eat. Slice your pizza and serve while still hot.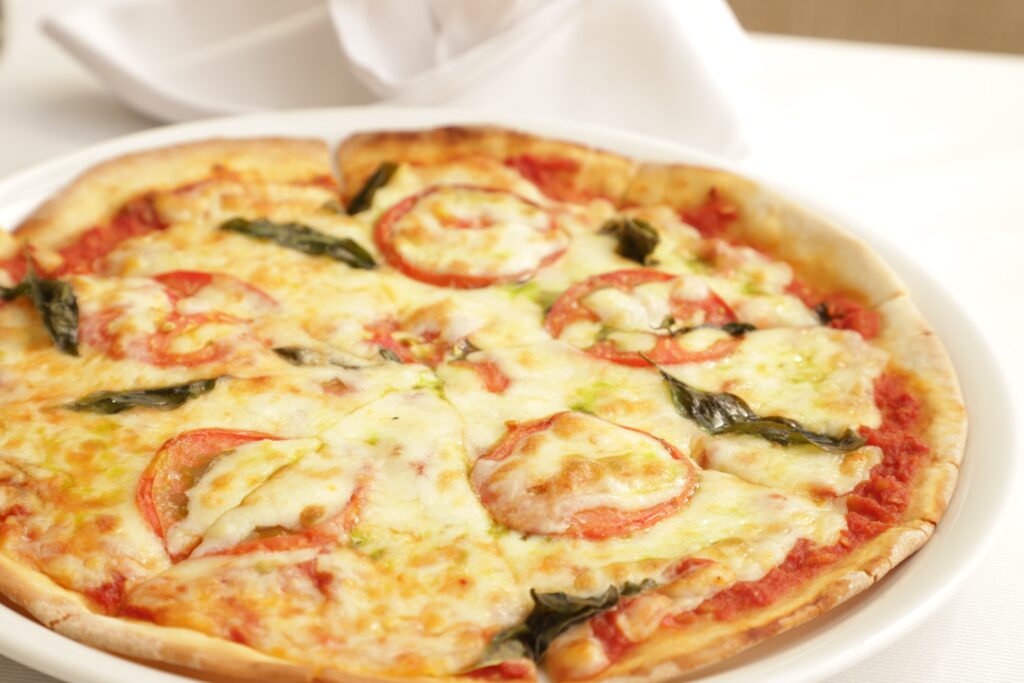 Remember here that more isn't necessarily better! The secret to enjoying this dish in its simplest form is to find flavors that work well together.
*Tip: * If you're feeling adventurous with your toppings then make sure that you only put on one or two at most—any more than this will be difficult to manage when eating without getting too messy.
*Tip: * When adding ingredients like beef or chicken, spread it out thinly rather than piling it up high as doing this will ensure a crispier base by avoiding overcooking those delicate ingredients towards the center of the pizza round where there is less heat coming from the oven. Don't forget that this is supposed to be a quick and easy recipe, not one that takes hours!
Watch this on how to make pizza from scratch for the first time.
Items You Might Need To Make Pizza in Kenya
Round Non-stick Perforated Pizza Baking Pan Tray

Made from heavy gauge carbon steel for exceptional heat conduction
Superior non-stick inside and out for easy food release
Freezer and refrigerator safe
Dishwasher safe and oven safe up to 240°C/475°F/Gas Mark
Large enough for that delicious home-prepared pizza
Price: KSh 1,400

Pizza Pan Shovel Cake Server

Easy to use
Easy, simple, and efficient
Thin and sturdy stainless steel blade
Sturdy, heat-resistant, wooden handle
Stainless Steel Material
Dishwasher safe
Easy to clean by hand
Suitable for pizza, cake

Product Headline Goes Here

Made out of food-grade plastic, durable and healthy. 
Round in shape and easy to use. 
Plastic and steel 
Can be used to cut into pizzas, cakes, idlis, sandwiches, spring rolls, etc.