Fridge Buying Guide in Kenya: If you are in the market for a fridge in Kenya, there is no need to search high and low. This blog post will help guide you through buying the best fridge in Kenya!
When buying a fridge in Kenya, where should you start?
What To Look For When Buying A Fridge In Kenya
The fridge is one of the most important appliances in a home as you will figure out in this fridge buying guide in Kenya.
It stores and preserves food keeps drinks cold or frozen and provides an extra place to store items.
When you are looking for a new refrigerator, there are many things that you should think about before making your purchase.
Here are 5 considerations when buying a fridge in Kenya:
1) Type of Fridge
What type will best suit your needs? Is it going to be used as an office refrigerator? A household refrigerator? Will it be placed indoors or outdoors?
2) Size
How much space do you have available for storage? Do you need room for large containers such as milk jugs or juice cartons? If so, then look at the dimensions of the appliance.
Trying out each fridge is another important step when buying a new appliance!
Ensure your hands can reach all the shelves easily without any obstruction.
3) Height
another thing to consider when buying a fridge in Kenya is the height of the fridge.
When considering refrigerators, you want to ensure that the shelves are comfortable for your family and easy access.
Large items like milk jugs should be able to fit on lower shelves without having to bend over or reach high up into an awkward position.
4) Style
Another important thing when buying a fridge is styles. Modern fridges come in a variety of layouts.
Some have a more traditional style with two doors in the front.
Others are designed to hold larger objects, like wine or champagne bottles, and often have an extra door on the side for easy access.
5) Energy Efficiency
Newer refrigerators use less energy, which translates into savings for you and less environmental impact. That is something you should consider when buying a fridge in Kenya
Bonus Tip on fridge buying guide in Kenya!
Create an idea of how much money you want to spend on a new appliance like this.
It's always good to know where the budget should go first, as it'll help with any other purchases later if needed. And these are what to look for when buying a fridge in Kenya.
Fridge Buying Guide in Kenya: What type of fridge do I want?
Stylewise, you've got two options:
a). Top-freezer fridge in Kenya
A top-freezer fridge in Kenya is a good option if you want something simple to clean.
This type of appliance has food at the top, making it easier to access them without opening up two compartments and getting dirty with stuff from both levels!
b). American-style refrigerator
The other type is an American-style refrigerator.
These are usually on a stand (some even go under your kitchen counter) and have doors in front rather than one big door on the side like most fridges do.
If this sounds right for what you want then go ahead but know they take up more space.
When buying one so make sure you have got enough room before getting one installed.
Fridge Buying Guide in Kenya: What size should I buy?
There are four options to choose from, and each comes with its own pros and cons.
As a rule of thumb, you want about 4-6 cubic feet of storage per person in your household.
Luckily, most fridges for sale in Kenya will list their cubic foot capacity, but if you're not sure, use a cubic foot calculator to figure it out based on the refrigerator's width, depth, and height.
Just to be safe, the below list outlines the average dimensions for each type of fridge;
| | | | |
| --- | --- | --- | --- |
| Fridge Types | Standard Width (cm) | Standard Height (cm) | Standard Depth (cm) |
| Four door | 92 cm – 96 cm | 170 cm – 180 cm | 90 cm – 96 cm |
| Side by side | 76 cm – 91 cm | 170 cm – 178 cm | 85 cm – 94 cm |
| Bottom mount | 54 cm – 80 cm | 130 cm – 180 cm | 59 cm – 75 cm |
| Top mount | 54 cm – 80 cm | 130 cm – 180 cm | 59 cm – 75 cm |
| French door | 92 cm – 96 cm | 170 cm – 180 cm | 90 cm – 96 cm |
| | | | |
| | | | |
What features should I look for on the fridge?
Here are some features to look for when buying a fridge in Kenya.
Make sure the fridge has a big enough freezer area for your needs.
You also want to make sure it's not so wide that you have trouble opening the doors because of the tight space in the kitchen.
Look for one with internal water and ice dispenser if you like having filtered, cold water on tap whenever you need it!
Fridge buying guide in Kenya: What else should I look for?
It all comes down to what type of refrigerator will work best for your lifestyle but there are some features worth considering before buying.
An LED lighting system inside helps light up darker corners and keep food looking fresher longer.
A Touch Screen Control Panel is easy to use (and looks cool).
Simply touch where you would like dials or knobs
An ice and water dispenser on the door makes it super convenient since people tend not to have room in their fridge for a separate freezer section, which can make it difficult to get ice cubes out at times.
Plus, an internal water filter means that fresh clean filtered water is always available whether from the tap or through one of those new water dispensers.
What's the most reliable refrigerator brand in Kenya?
A s far as Fridge Buying Guide in Kenya, deciding on a refrigerator for your home is important.
Here are some brands rated 4 stars and above online in Kenya;
1). VON VART-19DHY Double Door Fridge in Kenya
VON 136L Double door refrigerator is a great choice for your kitchen.
It features direct cooling, a freezer compartment with a flip lid, Adjustable glass shelves, a Vegetable box, and much more.
The Transparent door racks allow you to keep track of contents easily.
The Recessed handle design adds style and elegance to the unit.
This refrigerator also has an external condenser (better cooling efficiency), Lock, and key for added safety.
The VON fridge in Kenya is a great choice for your kitchen.
2). Ramtons 2 Door Direct Cool Fridge in Kenya
This is the best Ramton fridge in Kenya.
Comes with double doors with an adjustable glass shelf on each door.
The refrigerator is available in white color with a capacity of 173 liters.
This fridge features a built-in Zanussi compressor for better cooling performance.
And also comes with a warranty of 1 year and the power consumption is 1kW.
The dimensions Height 129.5Cm, Width 46.5Cm, Depth 55Cm
3). Bruhm BRS 155MMDS – Single Door Refrigerator
This is a refrigerator with the following features:
Single Door
Capacity 158 lts
Adjustable Legs
Lock & Key
Interior Light
Direct Cooling
Also comes with a 1-year warranty on parts and labor from the date of purchase against any manufacturing defect or component failure.
Remember though, the warranty does not cover damage caused by misuse or negligence.
Any unauthorized repair/modification will void the warranty immediately.
You can trust that these products will be designed with performance, convenience, style, and value in mind – even if it's not always readily apparent from the first glance.
4). Roch RFR-120S-I Single Door Refrigerator – 90 Litres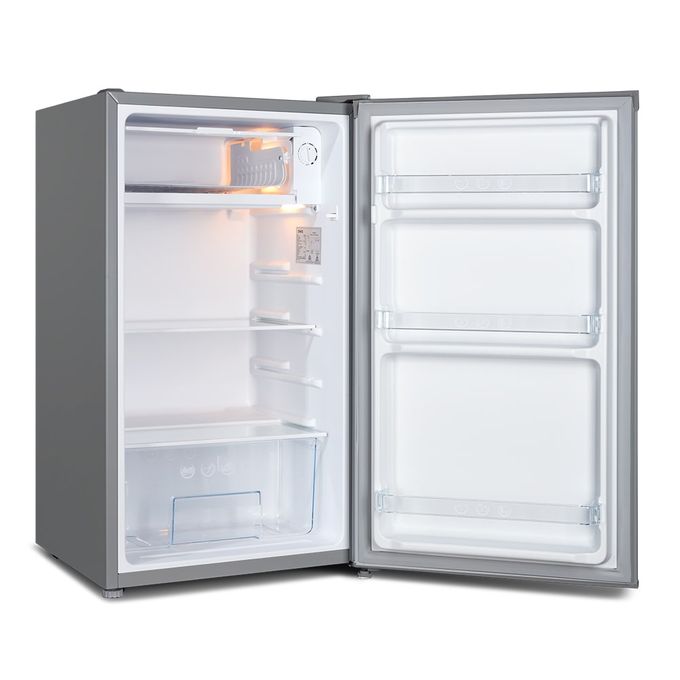 The Roch RFR-120S-I is an excellent refrigerator that comes with a range of features that make it a great addition to any home.
The mechanical control allows for easy and precise temperature adjustments, while the interior LED light makes it easy to find what you need without having to open the door.
One of the best things about the Roch RFR-120S-I is its energy efficiency.
It is designed to be energy-saving, which means it can help you save on your electricity bill while reducing your carbon footprint. Additionally, the low noise operation ensures that it won't disturb your peace and quiet.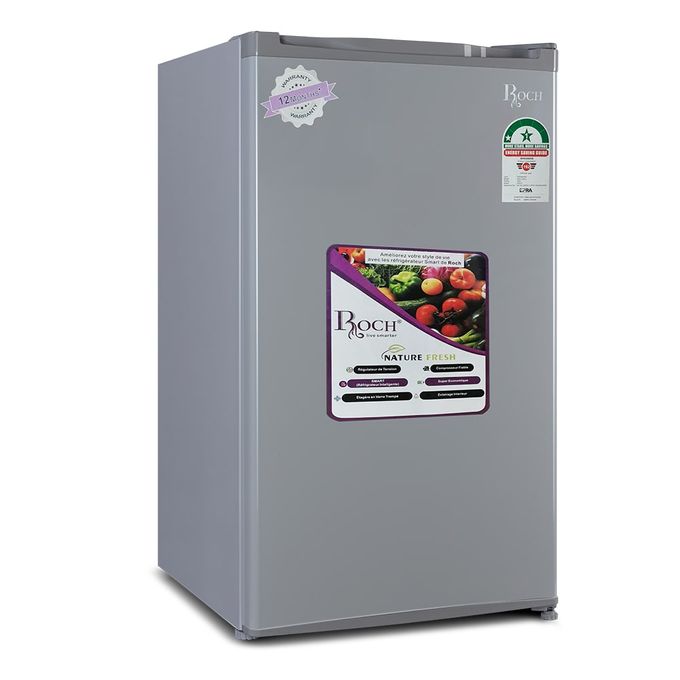 The adjustable front feet are another great feature of the Roch RFR-120S-I. They allow you to customize the height of the refrigerator to fit your needs, which is especially helpful if you have uneven flooring.
The lock and key feature also ensures that your food and beverages are kept safe and secure.
With a product size of 450490831mm and a volume of 90L, the Roch RFR-120S-I provides ample storage space for your groceries and beverages.
Overall, the Roch RFR-120S-I is a reliable and efficient refrigerator that delivers on its promises. I would highly recommend it to anyone in need of a new refrigerator.
5). Ramtons RF/175 – 2 Door Direct Cool Fridge – 128 Litres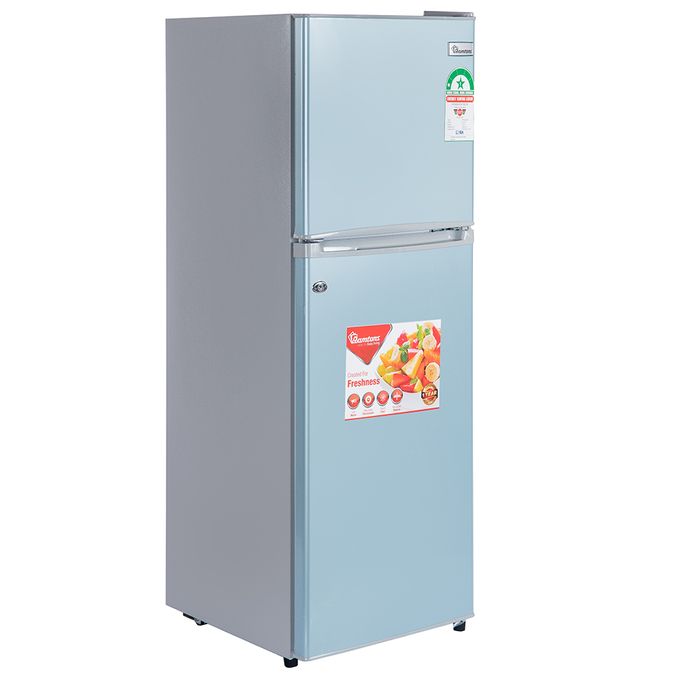 I recently got my hands on the Ramtons RF/175 fridge and I am absolutely loving it!
The Zanussi compressor ensures that my food stays fresh for longer periods of time.
With a capacity of 128L, I can store all my essentials and then some. The double door design is not only stylish but also practical – I can easily access anything in the fridge without having to worry about everything falling out.
I appreciate that the fridge is CFC-free, making it an eco-friendly option.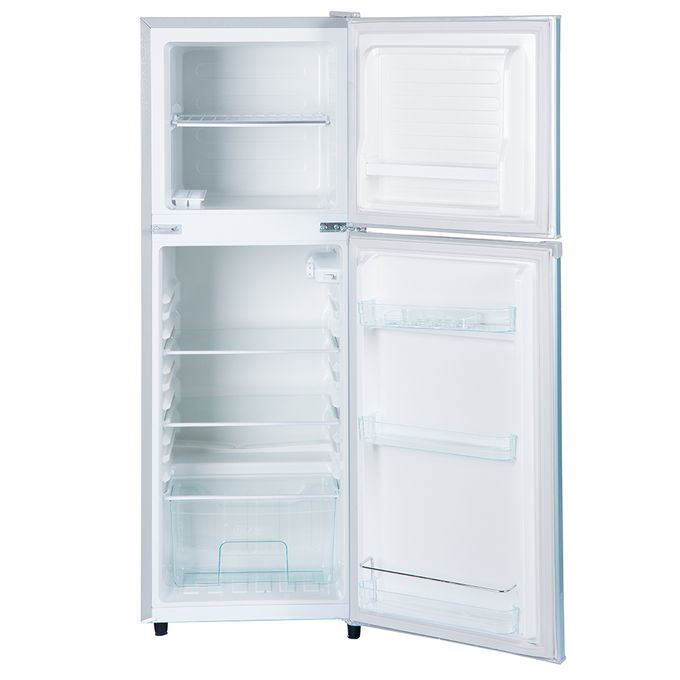 The direct cool feature means that it cools down really quickly, which is great when I have a lot of groceries to put away. The hard top is sturdy and can even be used as an extra counter space in my kitchen.
The glass shelf is a nice touch, adding to the overall aesthetic of the fridge. It's easy to clean and can hold all kinds of containers.
At a price of KSh 37,100 on Jumia, I think it's definitely worth the investment.
I would highly recommend the Ramtons RF/175 fridge to anyone in need of a reliable, spacious and stylish fridge!
6). Hisense 92L Single Door Direct Cooling Fridge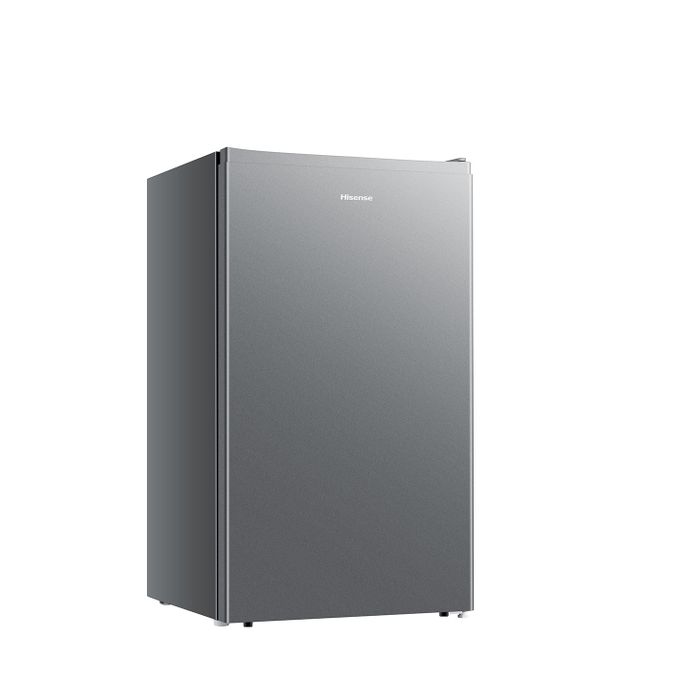 If you're looking for a refrigerator in Kenya that's both reliable and affordable, the Hisense RS-12DR4SA might just be the one for you.
With its mechanical control and adjustable thermostat, you'll be able to keep your food fresh and chilled precisely the way you like it.
Plus, the broad climate design and monolithic foaming mean that it's incredibly energy-efficient and environmentally friendly, which is always a plus in our book!
One thing we really love about this fridge is its low-noise design.
We've all had that one fridge that constantly hums and whirs in the background, making it tough to focus on anything else.
With the Hisense RS-12DR4SA, you won't have to worry about that – it's impressively quiet, even when it's working hard to keep your food fresh.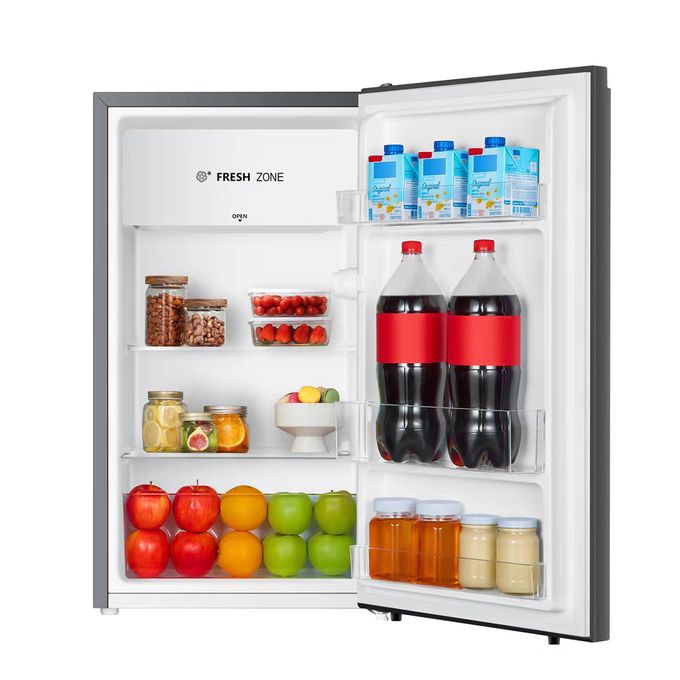 Another great feature is the reversible door, which you can customize to fit your space and your needs.
And if you need to move it around, the adjustable legs make that a breeze too.
All in all, we think the Hisense RS-12DR4SA is definitely worth considering if you're in the market for a new fridge.
At a price of KSh 21,300 on Jumia, it's a solid investment that'll keep your food fresh and your wallet happy.
Fridge Shopping Tips in Kenya
We have already looked at what to consider when buying a fridge in Kenya, here are some tips for buying a new fridge in Kenya:
Prioritize performance, convenience, and style by thinking about your needs and how you'll use the appliance. This will help narrow down which refrigerators deserve your attention before going into an appliance showroom or shopping mall.
Pick out features like shelving location and height, door type, water/ice dispenser locations, freezer compartment size, and layout of its drawers (or baskets) as well as exterior color options – all things that will affect both aesthetics and practicality when it's time to install your new fridge inside your kitchen
Wrapping up fridge buying guide in Kenya
We hope this Fridge Buying Guide in Kenya helped you to answer some questions and consider things when buying a fridge in Kenya.
Please share with friends, family, or anyone who might be looking!
And if you have any additional considerations – please comment below!
Who knows?
Your idea could help someone else decide for their kitchen space best.
Pay attention to this fridge buying guide and what to consider when buying a fridge in Kenya.