Best Dishwasher in Kenya: #9 Top Picks for Sparkling Clean Dishes
Are you tired of the hassle of scrubbing your dishes by hand? Looking for an easy and efficient way to keep your dishes sparkling clean? 
Well, look no further, because we've got you covered! 
In this post, we're thrilled to share the top best dishwashers in Kenya that are guaranteed to make your life easier and your dishes gleaming. 
From sleek designs to powerful and reliable functionality, these dishwashers are sure to impress. 
So, get ready to say goodbye to the drudgery of manual dishwashing and hello to effortless cleaning. 
Let's dive into the exciting world of dishwashers!
Best Overall
Bosch 300 Series Dishwasher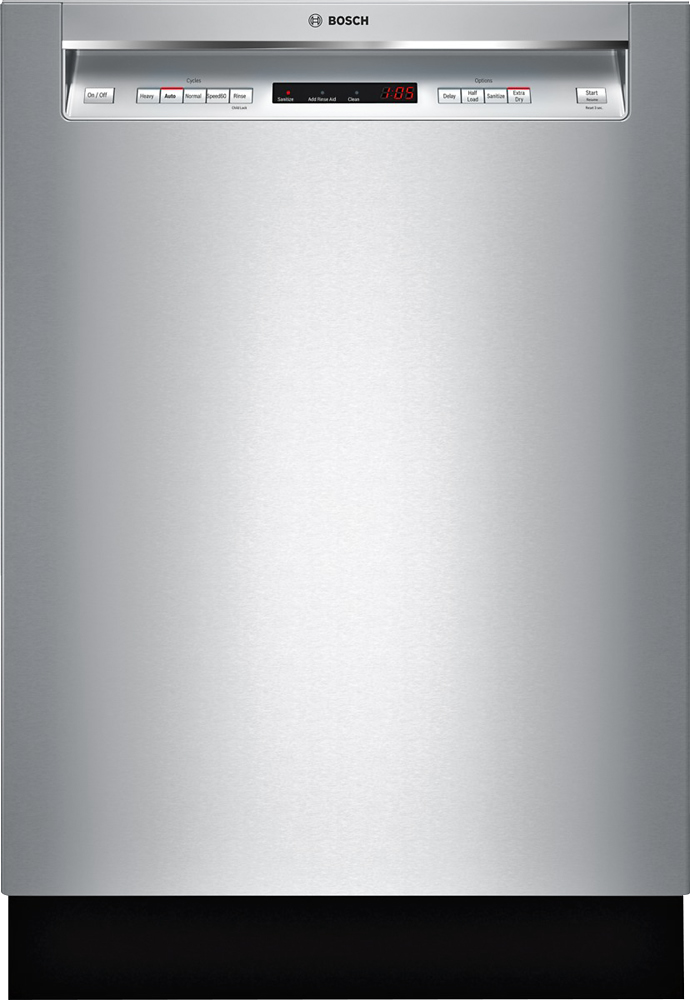 Pros
Its unique RackMatic System can adjust the racks and make room for more dirty dishes
Is so quiet that you can barely hear it running
Stellar cleaning performance
Built to last
Cons
Should dry plastic better
The Bosch 300 Series is the perfect choice for those looking for a dishwasher that offers great value for money. 
According to our assessment, Bosch is one of the most dependable brands when it comes to dishwashers.
In fact, only 10% of Bosch dishwashers sold between 2015 and 2021 required service in the first year of use, according to Yale Appliance.
This well-designed Bosch dishwasher will look great in any kitchen, and if you have curious kids, you can opt for the bar-handle variant to prevent them from fiddling with the control panel. 
All 300 Series models are energy-efficient, quiet, and spacious, with a wide range of cycles to choose from.
Families with a lot of dishes to clean will appreciate the V-shaped third rack, which offers up to 30% more capacity than other dishwashers. 
While Bosch has more expensive models such as the 500 Series and 800 Series, the 300 Series is ideal for most households. Compared to the Bosch 100 Series, this dishwasher dries better, is quieter, and has more spacious and adjustable racks.
It has been hailed as the best dishwasher by Wirecutter due to its effective cleaning and convenient Speed60 cycle that washes and dries dishes in an hour, as well as its reliability.
Should anything go wrong, Bosch has excellent customer service and an impressive warranty. 
Both labor and parts are covered for one year, while the racks and electrical systems have a five-year warranty, and the tub and door liner have a lifetime warranty.
Bosch's signature height-adjusting RackMatic System is still available with the 300 Series, which allows you to quickly adjust the middle rack to accommodate taller items. 
This dishwasher offers up to nine rack positions, allowing you to fit all your dishes with ease.
The dishwasher is so quiet (at just 48 decibels) that Bosch added a red light that shines on the floor to let you know when a cycle is in progress. In fact, it's so quiet that you may not even notice it's running!
The only downside of the Bosch 300 Series is that it doesn't dry plastic dishes as well because it uses condensation drying instead of heat drying. 
However, it's highly energy-efficient and uses just 2.9 gallons of water per load during its normal cycle, compared to Energy Star's recommendation of 3.5 gallons per load.
Best High-End Dishwasher in Kenya
Bosch 800 Series Dishwasher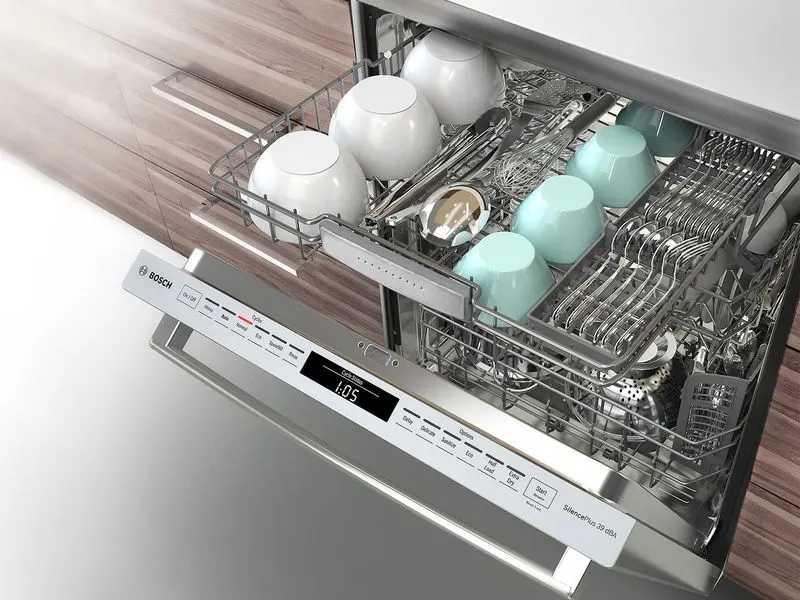 Pros
High buyer ratings
Quietest dishwasher in the industry
Powerful drying technology
24-inch/18-inch models
Cons
Few smart dishwasher options 
Pricey
One common problem with many dishwashers is that they tend to retain excess moisture, which results in wet dishes that need to be dried with a dishcloth. 
However, if you opt for one of Bosch's 800 Series dishwashers, this will no longer be an issue.
The Bosch 800 Series (SHXM78Z55N) is among the first dishwashers in the US to utilize zeolite, a mineral that stores heat and absorbs water. This makes it an excellent aid in removing moisture from your dishwasher and accelerating the drying process. 
While this technology has already been incorporated into high-end Thermador dishwashers selling for as much as $2,000, the Bosch 800 Series dishwasher is more affordable, with a starting price of around $1,200.
CrystalDry is the name given to this technology by Bosch, and its 800 Series models feature a cavity at the back of the dishwasher where the zeolite is stored in a pebble-like form. 
According to Jonathan Chan, the lab manager at Reviewed.com, this dishwasher is a "significant advancement," drying even stubborn plastic items effectively.
"When we activated the [CrystalDry] feature on the Autocycle, all dishes and plates emerged completely dry, and it even removed all the moisture from the interior of Tupperware containers," he remarked.
In addition to its outstanding drying ability, this dishwasher is also powerful enough to remove stains and clean greasy pots, stained plates, and bowls with crusty food remnants. 
It also has a sanitizing cycle that is ideal for cleaning baby bottles or sippy cups. The addition of a half-load setting, which reduces water usage for quick runs when the dishwasher isn't completely full, is also appreciated.
Like the 300 Series, this dishwasher comes in several variations at different price points, with the controls' location and handle type being the main differences between them. 
There are models with a recessed handle, a pocket handle, a bar handle, and the top-of-the-line Bosch SHEM78ZH5N model, which is quieter and has a larger third rack that can accommodate deeper items like large cereal bowls.
The SHXM78Z55N is the dishwasher that offers the most value for your money. It still has adjustable racks and tines that fold down to keep pans upright, and it dries dishes better than almost any other dishwasher available.
Related: #5 Best Bosch Dishwasher in Kenya: Premium Quality for Your Kitchen
Best Smart Dishwasher in Kenya
LG Smart Dishwasher with QuadWash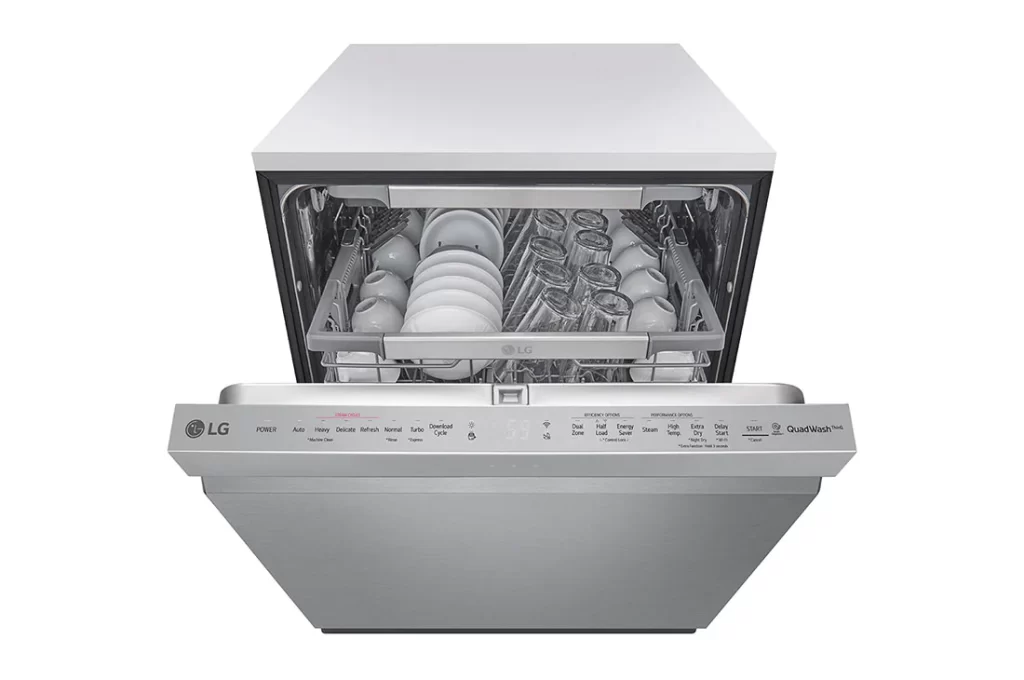 Pros
Uses steam to improve cleaning performance
Also comes in stainless steel
SF-certified to sanitize
Cons
May not hold as much as others
Cycles are a bit long
LG appliances in Kenya are well-known for their exceptional performance, and this dishwasher is no exception. 
In fact, it follows in the footsteps of LG's washing machines, clothes dryers, and gas ranges, all of which are stars in Good Housekeeping Institute tests. 
Our Cleaning Lab tests revealed that this model delivers great cleaning performance, even on very dirty loads.
One of the standout features of this dishwasher is its four lower spray arms, which is unique as most models only have two.
These spray arms spin and pivot with the pressure of the water to better direct the spray towards the corners, ensuring that every dish and glass is cleaned thoroughly. 
LG's TrueSteam technology is also noteworthy, as it injects steam into the pre-wash and main wash portions of the cycle, making it easier to remove crusty, baked-on soils and eliminate water spots.
This feature proved effective in our tests, particularly for removing the greasy film that can form on glassware that hasn't been used in a while.
In addition to its superior cleaning capabilities, this model also includes a top-tier tray and a separate flatware basket in the bottom rack.
We appreciate that it has a heating element for better drying, although the cycles may take longer than those of other brands. 
The LG ThinQ Smart Diagnosis app is a helpful bonus, allowing you to download extra cycles onto the machine and troubleshoot any issues that may arise. 
It even sends alerts to your smartphone, Alexa, or Google Assistant when the cycle is complete.
Best Self-Cleaning Dishwasher in Kenya
Beko 24-Inch Dishwasher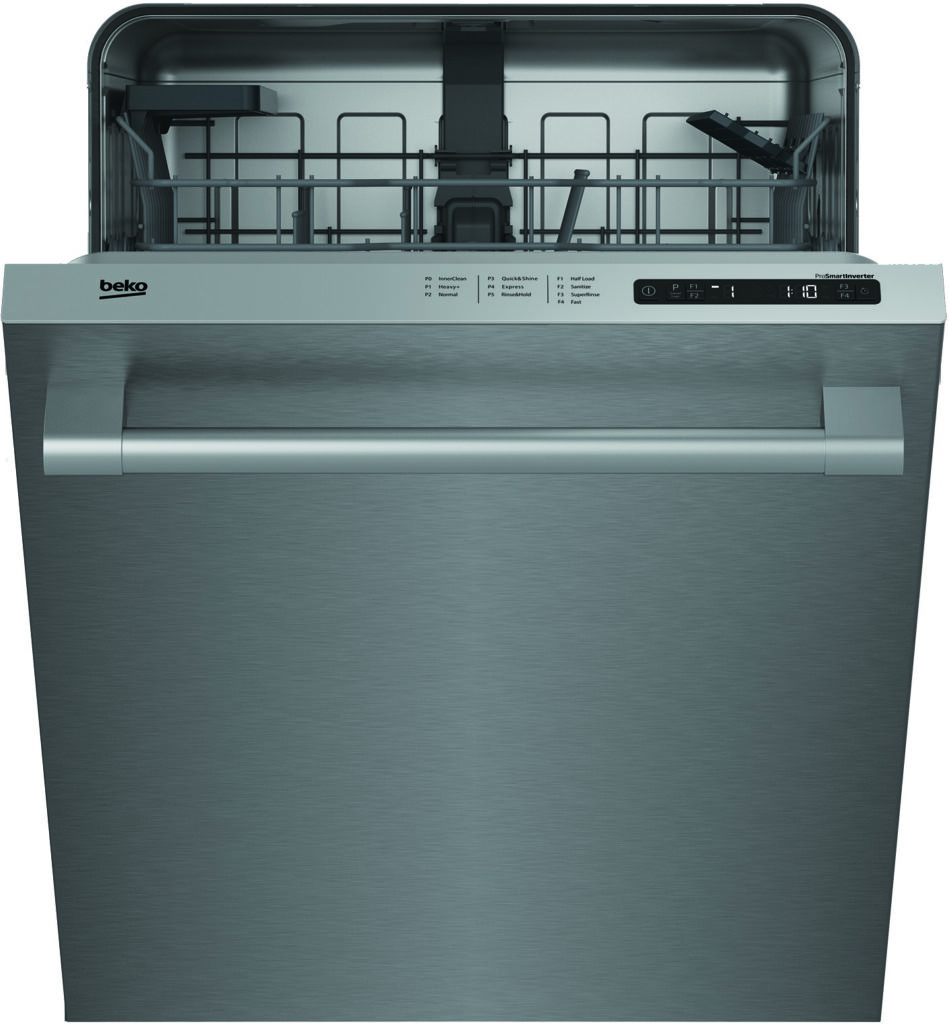 Pros
Filter has built-in water jets for self-cleaning
Extra large capacity
Sprays water in a square pattern to better reach the corners
Cons
Controls could be more responsive
The Kenyan appliance market has a new player, Beko, that's leaving a lasting impression with their remarkable innovations. 
One of the essential yet often overlooked tasks for maintaining a dishwasher's performance is cleaning the filter. 
Beko has solved that problem by installing water jets inside the filter well, which can be activated by selecting an option on the control panel. 
This, along with the CornerIntense square water spray pattern for thorough coverage and cleaning, contributed to Beko's recognition as a winner in the 2022 Good Housekeeping Best Cleaning & Organizing Awards.
In our testing, Beko easily cleaned our burnt and charred cookware items. 
With a full test load and an additional nine glasses and one dinner plate, it proved to be spacious. Its quiet operation is indicated by a light on the floor that turns red when it's running and green when it's done. 
The only minor issue we encountered was that the controls required a firm touch, but with practice, it became easier.
Best Cleaning Performance for the Price
GE Dry Boost Top Control Dishwasher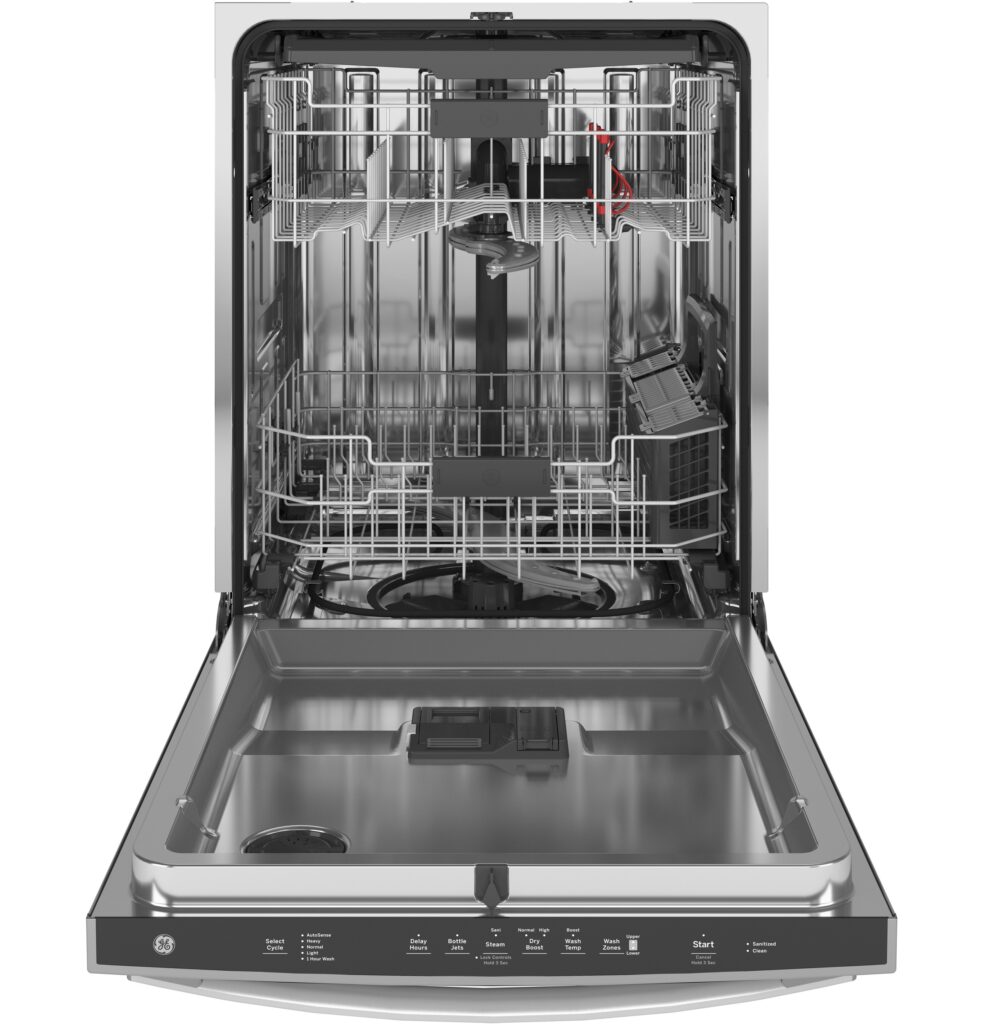 Pros
Has an integrated water-leak sensor
The control panel isn't visible
Cons
Shortest cycle time with drying is 1.3 hours
The GE GDP665SYNFS dishwasher is a sight to behold with its luxurious appearance that delivers exceptional cleaning results. 
It has an abundant capacity that can accommodate 16 place settings, and it comes with a built-in third rack and stainless steel tub, making it easier to clean spatulas, serving utensils, and lids in fewer loads. 
The dishwasher is designed with a sleek pocket handle and hidden controls, and features a fingerprint-resistant finish that adds to its overall appeal.
But beyond its attractive exterior, the GE dishwasher offers more than meets the eye. 
It boasts above-average cleaning performance, surpassing even a nearly $300-more-expensive Miele dishwasher, thanks to its three wash levels that ensure thorough cleaning of every dish. 
The dishwasher also features an integrated hard food disposer, which uses stainless steel impellers to pulverize food particles, leaving no gunk on your plates after the fan-assisted heated dry cycle. 
Furthermore, you can activate the "Steam + Sani" cycle to deep-clean your dishes and eliminate 99.99% of bacteria. 
The dishwasher also has a soil sensor that adjusts the cycle's duration as needed, based on the amount of debris present.
The GE dishwasher also comes packed with four bottle wash jets that can reach deep within tall items like water bottles, narrow glasses, and jars that are typically washed by hand. 
Overall, this dishwasher is hard to beat in terms of cleaning performance and premium features.
Best Budget Dishwasher in Kenya
Maytag MDB7959SKZ Dishwasher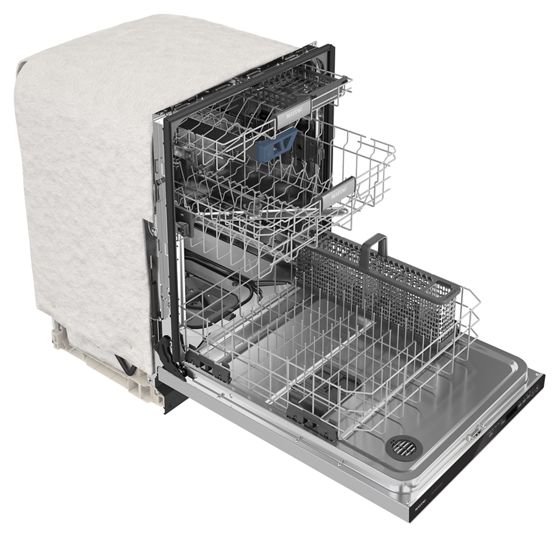 Pros
Attractive exterior
Its racks are flexible and let you fit in plenty of items
Cons
Not as quiet as other models
This Maytag dishwasher may not be the cheapest option available in Kenya, but in my opinion, it's worth the extra investment due to its superior cleaning and drying performance and its sleek, premium design. 
While the previous model, MDB4949SKZ, was our top pick for a budget dishwasher for over 2 years, the newer MDB7959SKZ boasts additional features such as a steam-sanitized option, the ability to hold 2 extra place settings (14 in total), and a control panel that is no longer located on the front of the unit. 
These additions justify the slightly higher price point of this model.
In comparison to the highly rated and often cheaper Whirlpool WDT730PAHZ, the Maytag offers quieter operation, an additional rack, and a more durable stainless steel tub, whereas the Whirlpool has a plastic tub. 
When compared to our overall top pick, the Bosch 300 Series, the Maytag is slightly louder (50 decibels vs. Bosch's 44 decibels) and lacks a third rack, which may be a dealbreaker for some. 
However, the Maytag makes up for this with its better plastic drying and more accommodating bottom rack for larger pots and pans. 
It also has a hard food disposer that grinds down food particles for hassle-free cleanup.
The Maytag dishwasher in Kenya is a reliable choice and comes with a 1-year warranty for parts and labor, with an additional 9 years of coverage for the grinder, tub, liner, and nylon racks.
Best Countertop Dishwasher in Kenya
BLACK+DECKER BCD6W Compact Countertop Dishwasher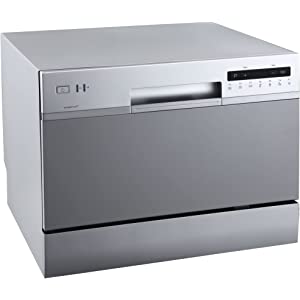 Pros
Has a cutlery basket for washing your utensils
Has a delay-start feature
Cons
Food trap requires frequent emptying
This economical BLACK+DECKER countertop dishwasher is an ideal option for those looking for a compact dishwasher in Kenya. 
With a capacity to hold six regular place settings in a single rack, it is also accompanied by a cutlery basket. 
The dishwasher has a sleek stainless steel finish and is about 21 inches tall. It comes with a stainless steel tub, seven wash cycles, and a rinse option. 
The quickest cycle, speed cycle, takes just 45 minutes, while the Heavy Duty cycle takes an hour and 40 minutes. 
The normal cycle finishes in an hour and 10 minutes.
One feature I appreciate is the delay-start function and child safety lock, which is uncommon among compact dishwashers. 
The digital control panel displays the current cycle and remaining time. 
This compact dishwasher is user-friendly and can be easily connected to your faucet. 
It's not too loud, and is perfect for those with limited space.
Another countertop dishwasher in Kenya worth considering is the Danby DDW631SDB. 
Although it might not have the modern look of the BLACK+DECKER, it can also accommodate six-place settings and is sometimes less expensive. 
It is also a top pick at Reviewed.com.
Best Portable Dishwasher in Kenya
GE GE 18-in Freestanding Dishwasher (Stainless)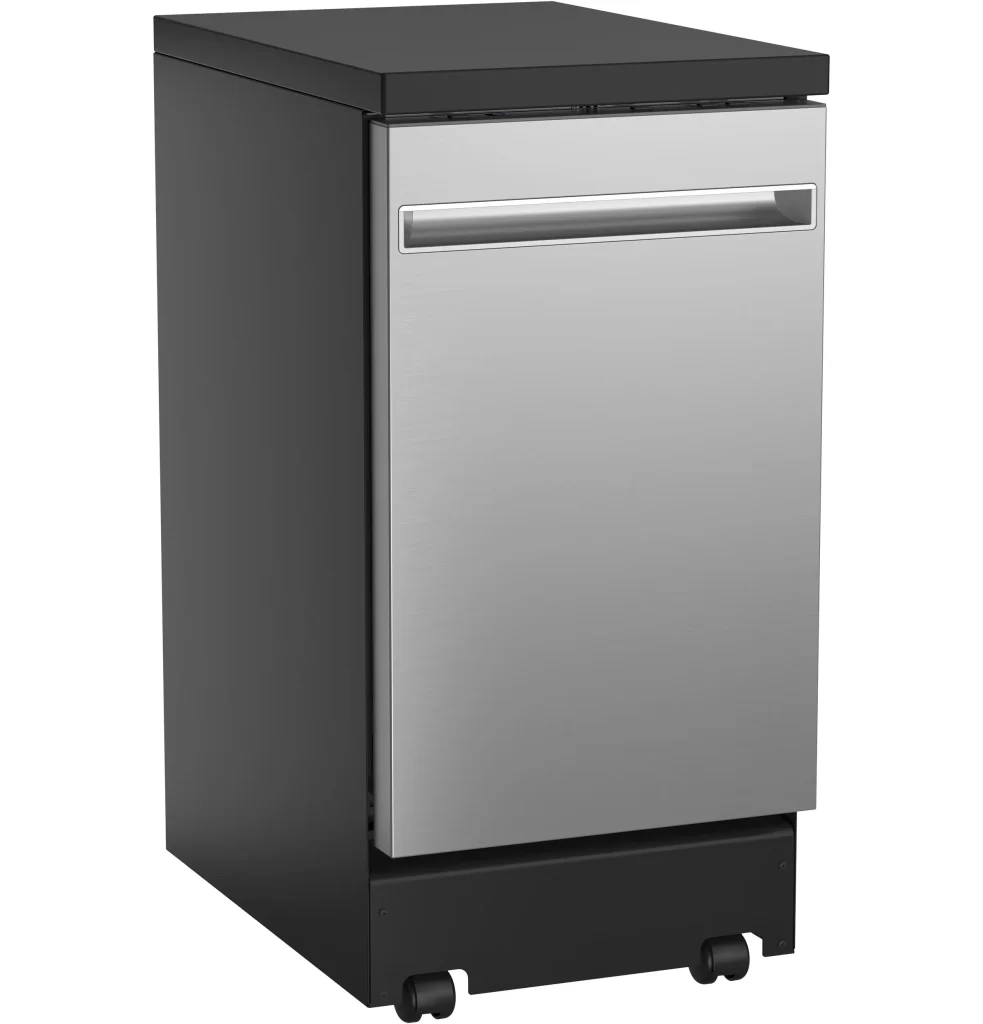 Pros
Stainless steel interior and exterior
Cleans as well as built-in dishwashers
For renters who lack a dishwasher, portable dishwashers in Kenya are an ideal solution. 
Among them, the GE 18-inch-wide model is my top pick. 
Although it produces noise levels of up to 52 decibels, it boasts an attractive design, a stainless steel interior, and thorough cleaning.
During their tests of the dishwasher, Reviewed.com discovered that it dries more effectively than rival models and cleans comparably to some high-end, permanently installed dishwashers. 
Users should ensure that they have space for the model's 5-foot-long power cord and 3-foot-long hose.
This dishwasher is mounted on wheels, allowing it to be easily rolled to the sink for connection or to be permanently placed after removing the wheels. 
However, our only objections are that it consumes a lot of water — more than double the amount of conventional dishwashers — and has limited cycle options. 
Only Normal, Auto-Sense, and Heavy are among the three cycles available for selection. 
Furthermore, this portable dishwasher in Kenya is only compatible with threaded sink faucet spouts, not with spouts that have built-in sprayers.
Other brands offer a few 18- and 24-inch portable dishwashers, but they typically have plastic tubs, are loud, and do not clean as effectively as this one. 
Not to mention that they are just as costly as standard dishwashers. If you want a high-quality portable dishwasher at a reasonable price, you can't go wrong with this GE model.
For larger families, I also recommend the GE GPT225SSLSS, which can accommodate 12 place settings rather than the 8 of the previously mentioned model.
Quietest Dishwasher in Kenya
GE GE Profile Series PDT715SYNFS Dishwasher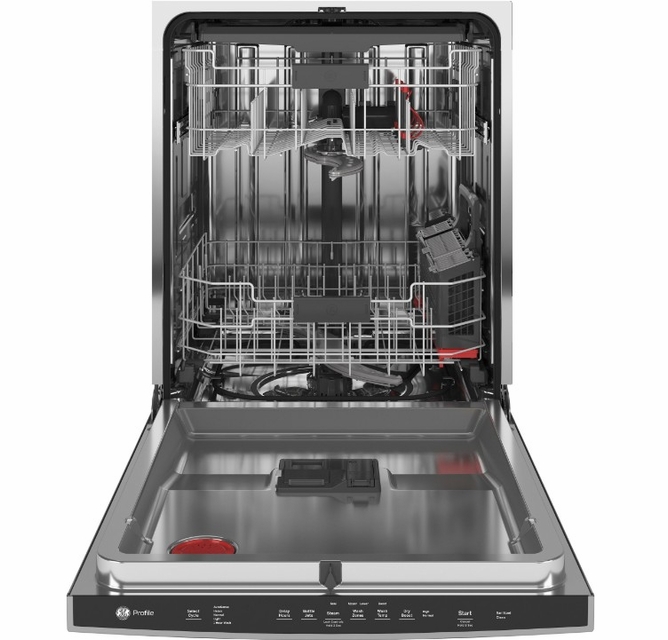 Pros
Has a hard food disposer that pulverizes food particles
Equipped with a third rack for flat items like spatulas
Has a dual fan for better-than-average drying performance
After conducting extensive research on hundreds of dishwasher models, I have concluded that the GE Profile Series is the most exceptional and noiseless dishwasher available in the market. 
Despite my previous preference for KitchenAid dishwashers, the GE Profile Series outperforms them with its larger capacity, superior cleaning and drying performance, and advanced smart features. 
It also includes a hard food disposer that pulverizes food particles.
The GE Profile Series operates at just 45 decibels, which is quieter than a whisper (15 decibels) and an air conditioner (60 decibels), and almost as quiet as complete silence. 
Yale Appliances has mic'd up two dishwashers, and you can compare their sound levels to hear the difference for yourself.
The GE Profile Series is suitable for open-concept homes since you'll only hear a faint hum if you're standing directly next to it. 
The dishwasher's exterior has a fingerprint- and smudge-resistant coating to maintain its stainless steel finish's sleek appearance. It also features hidden controls to prevent children from accidentally starting a wash cycle.
The dishwasher has a stainless steel interior with a third rack for long, flat items like spatulas and a dual-fan system for superior drying without rinse aid. 
It also has a bottle-wash option and four spray nozzles that can clean tall or oddly shaped items like water bottles, travel mugs, or vases. 
Additionally, it includes a steam prewash that loosens tough grime before washing cycles, eliminating the need to soak or pre-rinse dishes.
Related: